Barn Home Designs...
Reflections of Yesteryear!
Barn home designs capture the essence of our agrarian heritage and deep connection with the land.  Simple in design and sturdy in structure, they blend nostalgic charm with present-day livability and convenience!
A 19th century barn (below) in Upstate New York is among a cluster of converted outbuildings on the property.  Renovated by William Green Architecture, the complex includes a garden shed, boathouse, studio and gym.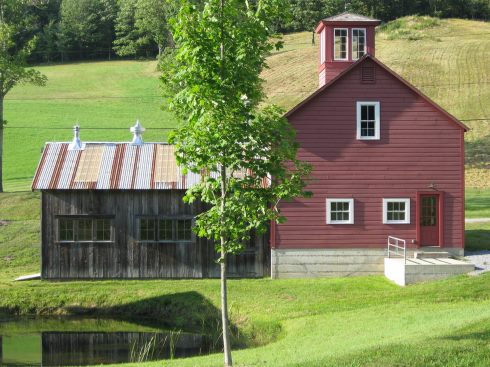 Image via William Green Architecture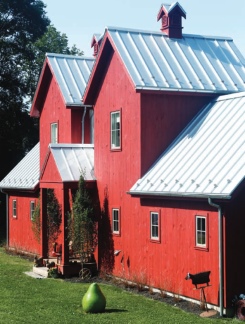 At only 1,200 square feet, a new barn home by architect Jonathan Wagner makes a big design statement in Connecticut. A perspective view of the entry facade is shown at right.  In the back, a covered deck (below) extends the living area to the out of doors.
Images at right and below via Jonathan Wagner AIA Architect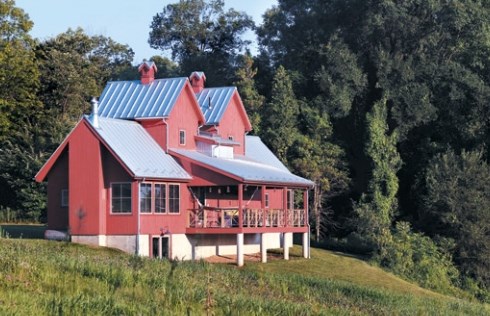 Moved to a pristine setting in Manchester, Vermont, a salvaged barn is converted to a strikingly picturesque residence.  Landscape planning and design are by Hali Beckman, Ltd.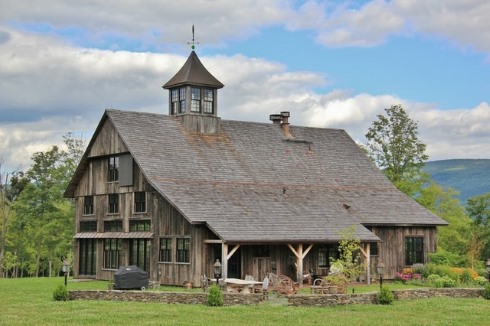 Perspective view of front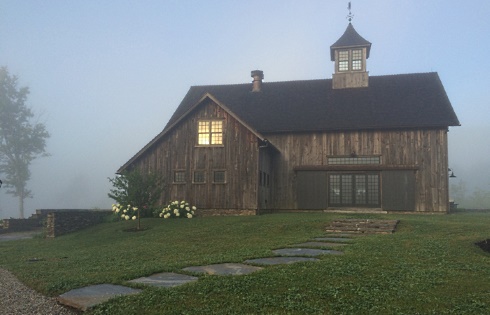 Rear view at twilight
Image above via Hali Beckman, Ltd.

A post and beam barn home design by architect Kent Thompson graces the landscape in rural Kenton, Ohio.  Constructed by Riverbend Timber Framing, the exterior features a stone foundation and crisp white board and batten siding.  A large glazed cupola caps the roof, flooding the open interior with natural light.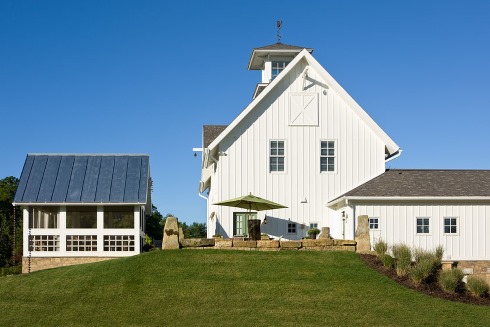 More Barn Home Designs
A gambrel roof and board and batten siding lend authenticity to a new barn home in Lake Geneva, Wisconsin (left, below).  Built by WynTree Construction with reclaimed wood, the post and beam residence features a stone fireplace surround and a soaring cathedral ceiling overhead (right, below).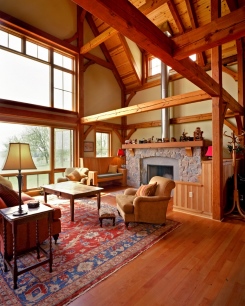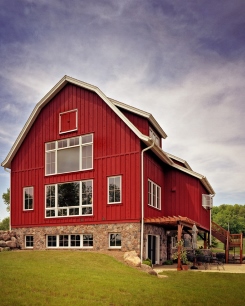 Images via WynTree Construction, Inc.

Switching gears for a moment, the following is a conceptual design for a barn-inspired dwelling in Germany.  From Berlin-based Möhring Architekten, the contemporary two and a half story structure features an open floor plan with primary living area on the first floor.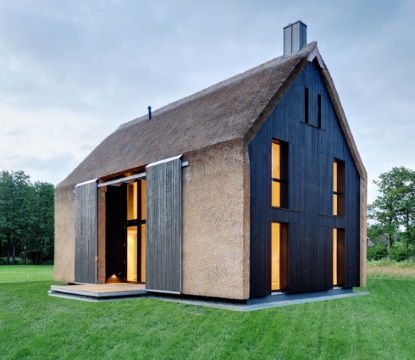 Photo Credit: Stefan Melchior

A dramatic hanging staircase leads to the upper level bedrooms -- each of which comprises a "mini suite" with private bath and dressing room.  If needed, space is available for two additional rooms on the third level loft.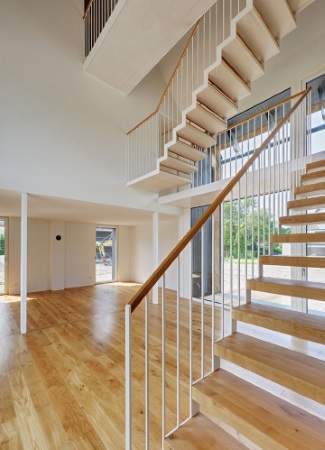 Photo Credit: Stefan Melchior

Back in the U.S., a delightful combination of wood, brick and stone comes together in a barn home design by Brandes Maselli Architects.  Located in Bedminster, New Jersey, it features a silo and cupola.  Standing seam copper covers the roof.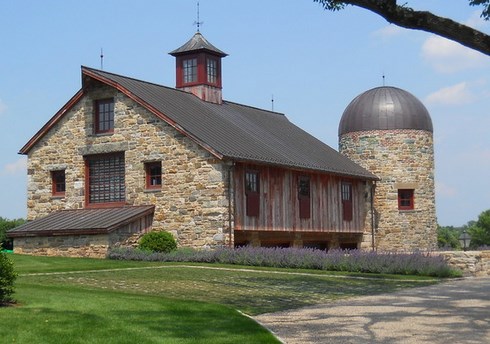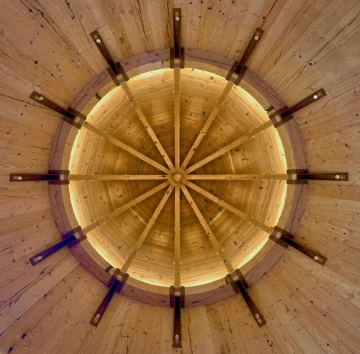 Silo Ceiling Detail
Images via Brandes Maselli Architects

Please check back often or subscribe to our RSS feed, as we frequently add new barn style homes to our site.

YOU MAY ALSO LIKE:


Barn Style House Plans -
Home Sweet Home!


Farm House Designs -
More Popular than Ever!

Back to Standout Farmhouse Designs Home Page


Didn't find what you were looking for?
Use this search feature to find it.