The Modern Farmhouse...
An Evolving American Icon!

The modern farmhouse continues to evolve from an iconic building type deeply rooted in our past.  Beloved by generations, the American farmhouse reflects the ideal of a place we call "home."  Simple shapes come together to form striking compositions.  Ever pushing the envelope, today's architects, designers and builders are re-imagining this iconic symbol in ways that would be unimaginable to our agrarian ancestors!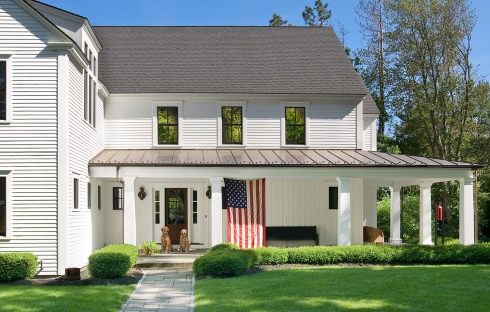 Above: Modern Farmhouse in Cape Elizabeth, Maine, by Banks Design Associates
Photo Credit: Francois Gagné

Designed and constructed by J. Taylor Designs, a modern farm house (below) in Murfreesboro, Tennessee marries contemporary elements with traditional forms.  A classic front porch design -- perfect for contemplating the beauty of a southern evening -- wraps partly around one side.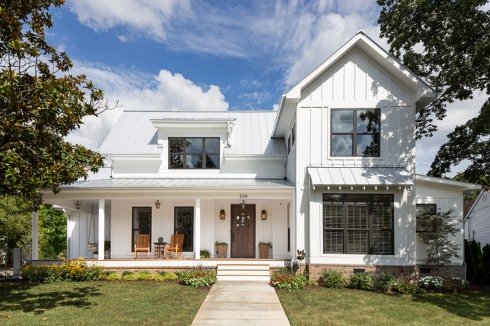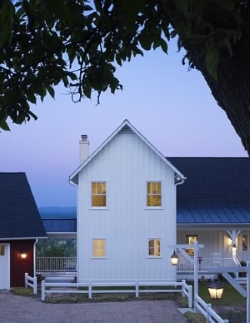 Perched on a Virginia hillside overlooking newly planted vineyards, a modern farmhouse (shown at right and below) by Barnes Vanze Architects is comprised of three connected structures designed to maximize views of the valley below.  Inspired by the communal arrangement of buildings on a working farm, the composition consists of a central house flanked by a master suite on one side, and a bank barn on the other, linked together by covered breezeways.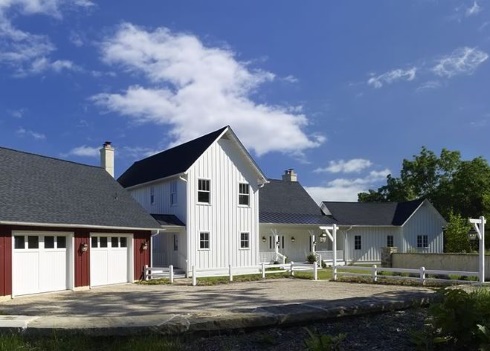 New England meets the Midwest in a striking design by Sullivan, Goulette & Wilson Architects.  The Michigan farmhouse, dubbed "Firefly Hill," derives its inspiration from the historic connected farmsteads of New England and vernacular farm outbuildings of the Midwest.  A crisp white clapboard exterior envelops 3,500 square feet of living area.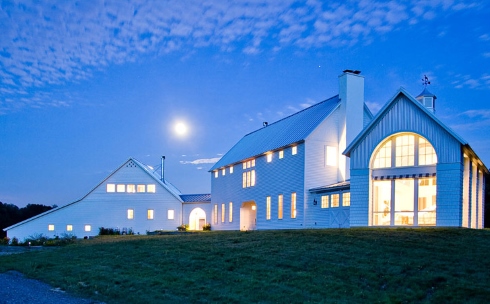 The modern farmhouse pictured below enjoys a commanding presence on Maryland's Eastern Shore.  Undoubtedly inspired by the distinctive work of architect Hugh Newell Jacobsen, widely known for his pavilion style homes comprised of simple gabled forms, it evokes the outbuildings of rural America in a contemporized context.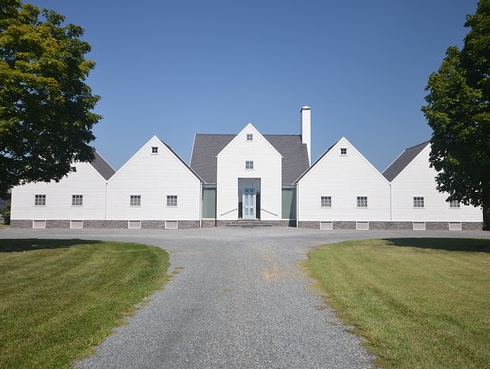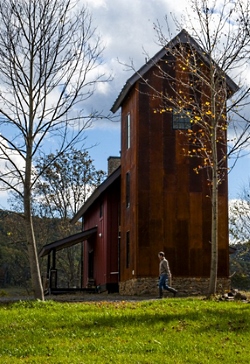 Modern Farmhouse . . .
Barn Style
Built by developer Mark Turner in collaboration with architect David Bagnoli, "One Nest" com- bines a tall, rusting silo with a modern red barn, creating a relatively inexpensive second home for his family.   The house,  situated in the Virginia countryside, is an experiment in afford- able and environmentally friendly design and construction.  Employing modular components, total building costs came in at around $150,000.

Rather than digging a basement and pouring environmentally impactful concrete, the house sits lightly upon piers.  The pier foundation and modular construction allow the home's major building components to be created off site and shipped anywhere for rapid assembly.  High performance structurally insulated panels are used to clad both interior and exterior walls.  At only 1,000 square feet, the home includes 3 bedrooms and 2.5 baths.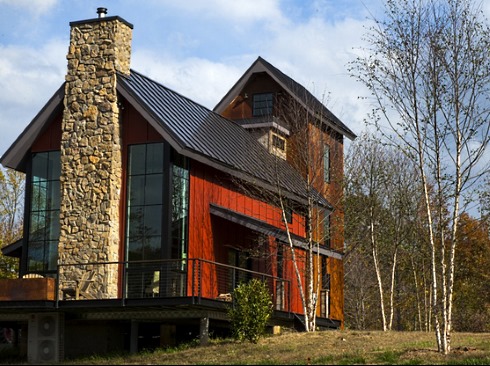 A soaring cathedral ceiling and tall (26 feet high) corner windows belie the home's relatively compact size.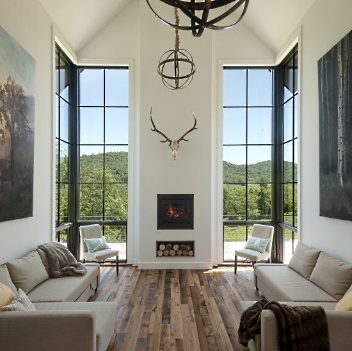 See More Projects by this Developer

Please check back often or subscribe to our RSS feed, as we frequently add contemporary farmhouse designs to our site.

YOU MAY ALSO LIKE:


Home Decor Interior Designs -
Modern Take on Traditional Theme!


Farmhouse Inspired Home Design -
Warm Wood Accents & Soothing Colors!


The Single Floor House Plan -
Modern Marvels!


Farm House Design -
Regional Riches!


Midsize Farm House Floor Plans
for Modern Lifestyles!


Back to Standout Farmhouse Designs Home Page


Didn't find what you were looking for?
Use this search feature to find it.