Looking for Farmhouse Designs
that Truly STAND OUT?
The farmhouse designs (barn homes, too!) on this site are bound to stimulate your creative spirit and open your mind to a realm of endless possibilities.  Discover a host
of ideas for creating an idyllic farmhouse haven of your own . . . . .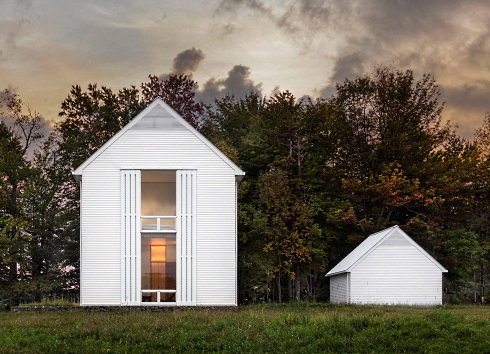 Timeless Charm...both Simple and Elegant (Photo Credit: David Sundberg)

Stay Tuned for More Info and Pics!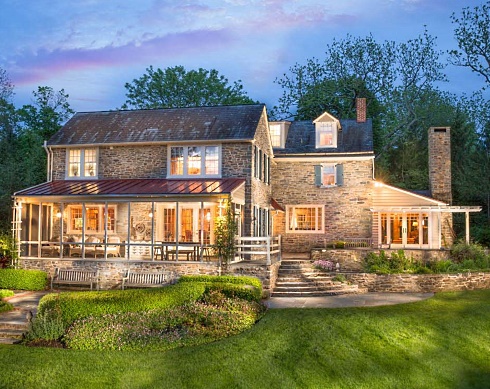 Above:  Stunning Historic Philadelphia Farmhouse
(Image via Zillow Porchlight)

A special place to reconnect with your roots.  A place to rejuvenate mind, body and spirit.  A place to build a lifetime of memories!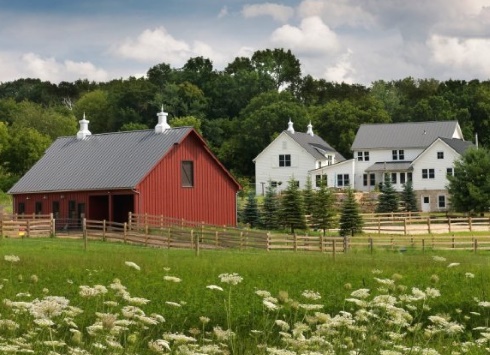 Above: "The Idea Farm," Afton, Minnesota, by Vujovich Design Build

---
Perhaps you've always yearned for a traditional style farmhouse with a wraparound porch . . . . .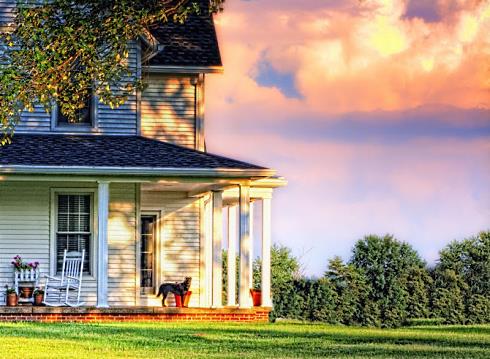 Above: Classic Farmhouse Style
(Image by Dan Felstead)
or a picturesque composition of gables and Gothic-inspired dormers.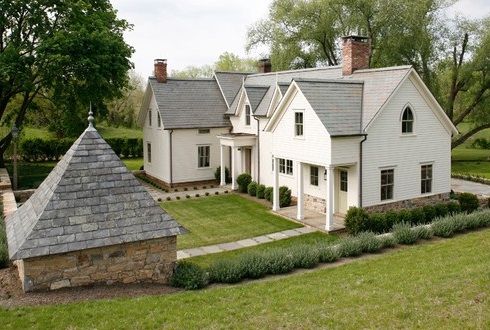 Above: Farmhouse restoration and landscape design by ALF Design

Maybe a crisp, contemporary version of this beloved building type . . . . .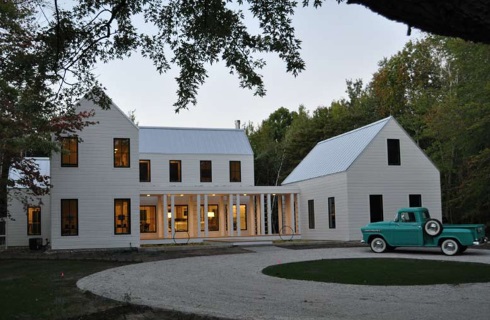 Above: Modern Twist in Michigan by GTH Architects
or even an ultra-modern configuration of simple farmhouse shapes arranged to form a sleek, synergistic whole.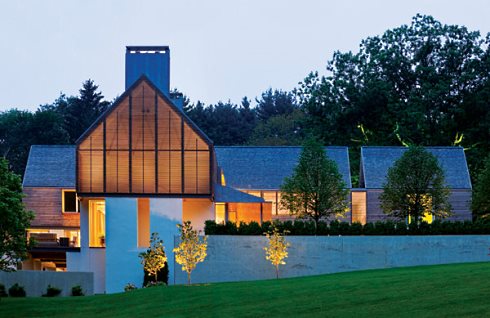 Above: Contemporary in Connecticut by Joeb Moore + Partners
Small Farmhouse Designs

If less is more, the small farmhouse plans featured here will appeal to a broad range of personal tastes and preferences.  Below, a quaint farmhouse cottage rests in a grove of trees along the Northern California coast.  Designed by Richardson Architects, the one bedroom plan encompasses 388 square feet and boasts a delightful wraparound porch.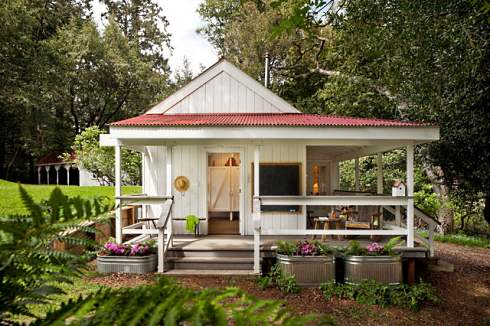 See Floor Plans for Farmhouse Cottage above

Taking its styling cues from early farmhouse architecture, a compact contemporary design by Go Logic employs the latest in energy efficient technology, including solar electric and hot water systems.  The prefabricated "Go Home" features 1,500 square
feet of living area on two levels.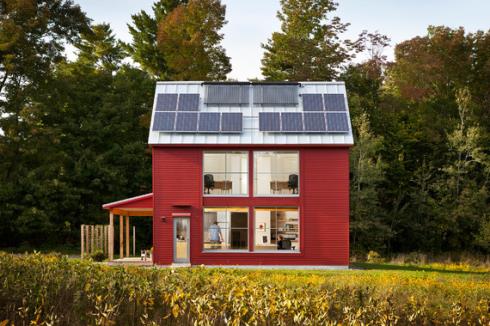 Photo Credit: Trent Bell
See Floor Plans for "Go Home" and More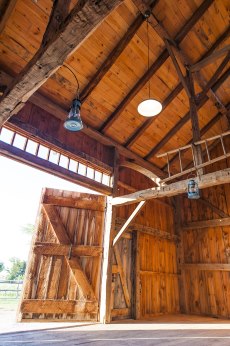 Barn Home Designs
Originally used to house livestock and feed, barns are being reclaimed as habitats and recreational retreats for humans.  What was once considered a utilitarian farm building is now prized for its hand crafted beauty and structural integrity.  Solid
timber-frame construction features lofty interiors with exposed posts and beams.  Spacious floor plans are warmed by the natural beauty of wood -- often centuries in the making.
Right: Renovated barn in Pennsylvania by Heritage Restorations

A charming 2-story barn (below) now functions as a game room and entertainment center for a family in Darien, Connecticut.  Reconstructed by architect Sean O'Kane and E. M. Rose Builders, it features a fieldstone fireplace and chimney addition.  A 3-car garage and mudroom occupy the lower level.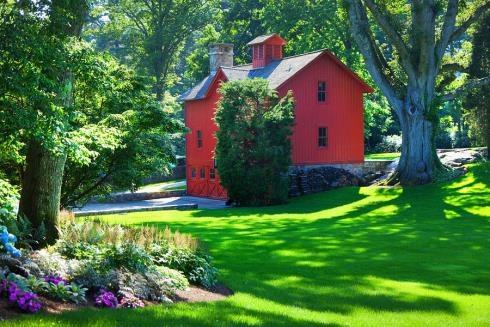 Photo Credit: Barry A. Hyman

A makeover in Niles, Michigan transformed a dilapidated 19th century dairy barn into a beautiful 21st century dwelling.  Austin DePree of Northworks Architects and Planners assisted the dedicated owners in the restoration and conversion.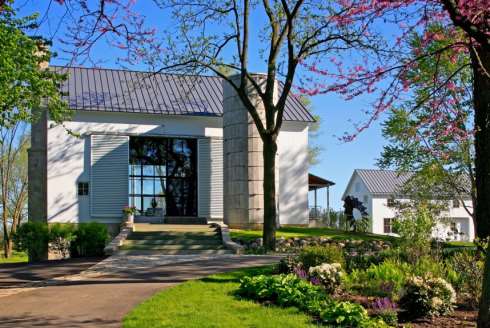 Photo Credit: James Yochum
If the prospect of taking on a barn home conversion is a bit too daunting, additional options are available.  Thanks to a resurgence in popularity of this iconic, but rapidly disappearing building type, a new industry has evolved to meet the increasing demand for barn style homes.    Designers, builders and manufacturers are expanding their services and product lines to give barn home enthusiasts more choices than ever before!
Nostalgic Reminders of the Past . . .
designed for Present-Day Living
Pictured below, a design by architect Michelle Penn of Authenticity, LLC features a classic gambrel roof crowned by a cupola.  Behind its traditionally-styled exterior, the new Nebraska barn home incorporates a host of green building technologies such as solar heating and rainwater harvesting.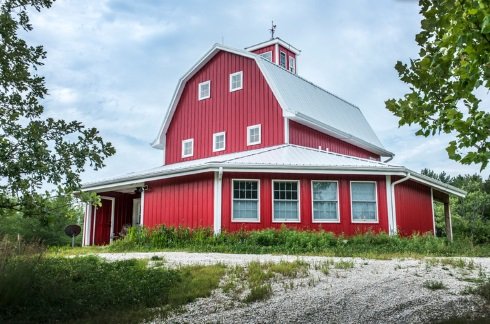 Stately moss-draped trees frame an elegant carriage house design in Richmond Hill, Georgia.  Crafted by Historical Concepts, the post and beam structure houses a potting shed, parking space and mud room on Level 1.  The upstairs living area features a great room with cathedral ceiling lit by a cupola.  A bedroom, office and kitchen complete Level 2.

Photo Credit: Josh Savage Gibson
Barn home kits provide another option for those in search of a farm-style retreat.  Many can be customized to the buyer's specifications.  The prefabricated "Ponderosa Country Barn Home" from Sand Creek Post & Beam -- shown here with a custom wraparound porch, shed roof dormers and a distinctive widow's peak -- is 22x24 feet in size.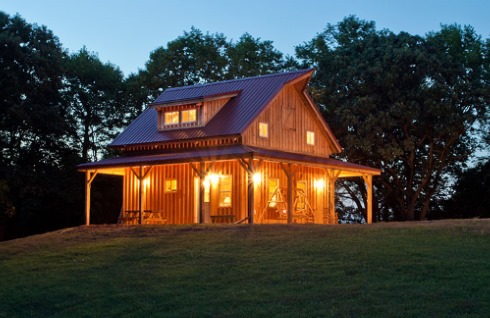 Barn home kit from Sand Creek Post & Beam, Wayne. NE

See "Ponderosa" Barn Home Kit Plans

We hope that as you explore the vast array of farmhouse designs on our site, you'll discover a style and floor plan that is right for you.  A special look that "speaks" to you.  And an exciting variety of options to help you turn your dream into reality!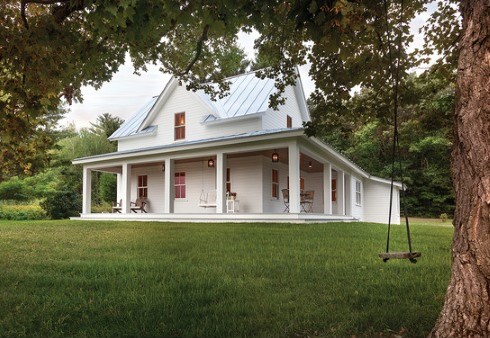 Farmhouse design by architect Craig Sachs, Neenah, WI
(Photo by Jeffrey Lendrum)

Another view of farmhouse design by architect Craig Sachs
(Photo by Jeffrey Lendrum)

Stay up-to-date with new pages as they go up on our site, as well as all current page updates and special postings by subscribing to our Farmhouse Designs Blog!