Country House Floor Plans...
Farmhouse Inspired!
Country house floor plans draw from the rich vocabulary and diversity of vernacular farmhouse design across rural America.  From a gentle rise in coastal Maine where fields and forest converge . . . to Virginia's pastoral Hunt Country . . . to the rugged terrain of Texas Hill Country . . . the farmhouses featured here honor local traditions and variations in style -- with all the comforts and conveniences we've come to expect in a new home!

Dash Landing Farmhouse

Occupying the edge of a rolling field in Freeport, Maine, a delightful farm house with detached barn style garage evokes 19th century charm with 21st century comfort and energy efficiency.  The classic 2,500 square foot design is a collaborative effort between Whitten Architects and Rousseau Builders.

Perspective View of Front

The south and east elevations provide a clearer understanding of how the house and garage are oriented to the site.  An open breezeway connects the two structures.

South and East Elevations - Dash Landing Farmhouse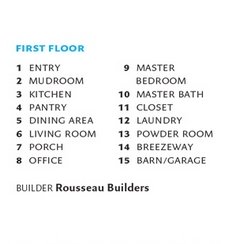 In true farmhouse fashion, the main entry opens into a vestibule with adjacent mudroom, then directly into a sunny east facing kitchen which, in turn, flows uninterrupted into the dining area and living room to form an "L" shape with southern exposure.  Fronted by a porch, the rooms are sheltered from the hot summer sun and kept warm in the winter by the low angle winter sunlight streaming through the windows.
A corridor running along the the back of the home leads to a powder room, laundry closet and office.  The master bedroom suite is at the far end of the hall for maximum privacy.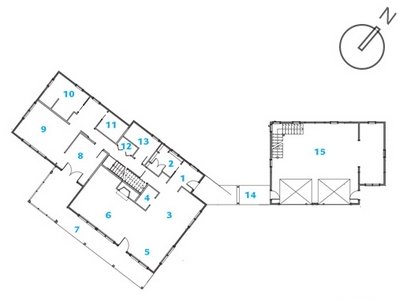 Level 1: Dash Landing Farmhouse

The upper level contains two bedrooms, a sitting area, and a full bathroom.  The space over the garage can be finished as a studio, guest suite, or entertainment room.

See Level 2 and More about "Dash Landing Farmhouse" (PDF)

The light-filled kitchen features traditional white cabinetry and wood flooring.  Slate countertops with tiled backsplashes complement a deep farmhouse sink.  The center island (shown in foreground) is capped with birch.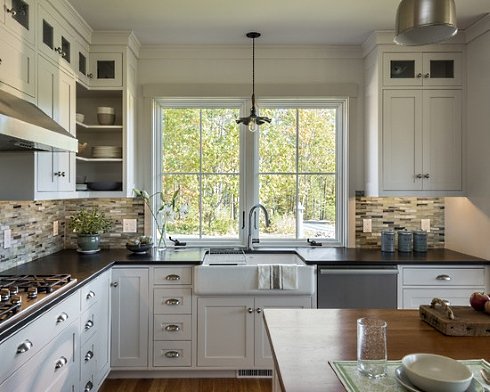 Dash Landing Farmhouse Kitchen Design

Photo Credits (above): Rob Karosis

More Country House Floor Plans
Fox Hill
Set in the heart of Virginia Hunt Country near Charlottesville, "Fox Hill" takes its styling cues from the rich vernacular heritage of the region.  Appearing as if it evolved via a series of additions over an extended period of time, the new farmhouse by Rosney Co. Architects and designer Bunny Williams employs both stone and clapboard in its "additions."  The main or central block's upper level dormers are repeated in the wings to help unify the overall composition.

View of Front

The sprawling Southern charmer encompasses 4,361 square feet of living area on two levels.  Flanking the center entrance hall, Level 1 features a master bedroom suite tucked into a private wing, complete with its own porch and fireplace (below right).  Opposite the master suite is a library ("tavern"), appointed with built-in bookshelves and a fireplace.
The entry hall leads to an open kitchen with pantry and dining area which, in turn, flow into a spacious family room with soaring cathedral ceiling and double-sided hearth.  Flanking the hearth are French doors that open onto a large screen porch.
The service entrance in back leads to a mudroom, powder room and laundry room.  A "dog trot" or covered breezeway connects the home with a two car garage (below left).

Level 1 (above): 2,738 square feet

The upper level includes two bedrooms, two baths, a bunk room and a pajama lounge.  A studio and 3/4 bath occupy the space above the garage.

Level 2 (above): 1,623 square feet

A large center island resting on glass-fronted cabinets performs double duty as a sit down eating area.

"Fox Hill" Farmhouse Kitchen Design

Photo Credits (above): Laurey W. Glenn

Mueller House
Designed by Austin-based architect Steve Zagorski, the "Mueller House" is a stunningly modern take on the Texas Hill Country farmhouse.  A picturesque composition of gabled volumes and dormers, the home merges traditional forms with crisp, contem- porary styling.  A large wraparound porch with exposed rafter tails lends authenticity to the composition.

The main level features an open floor plan with kitchen, living and dining areas flowing together beneath a 1-1/2 story ceiling.  Two bedrooms and two baths -- including the master suite -- occupy diametrically opposing ends of the plan.  A pantry, laundry room and two car garage complete this level.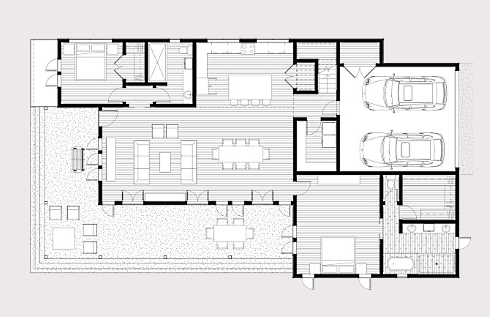 Level 1: Mueller House Floor Plan

The upper level features two additional bedrooms and an open lounge area.  A full bathroom with dual vanity sinks rounds out Level 2 of this modern farm house floor plan.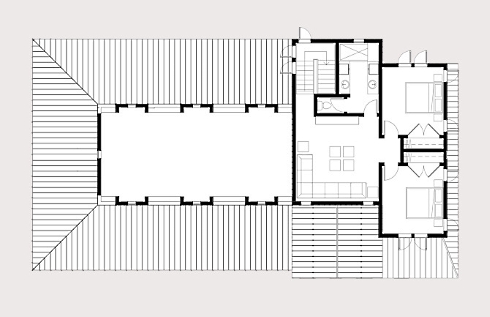 Level 2: Mueller House Floor Plan

Please check back often or subscribe to our RSS feed, as we frequently add new country house floor plans to our site.

YOU MAY ALSO LIKE:

New House Floor Plans -
Old House Charm!


Modern Farm House Floor Plan -
A Masterwork in the Midwest!


The Single Floor House Plan -
Modern Marvels!


Midsize Farm House Floor Plans
for Modern Lifestyles!

Small Country House Plans -
"Farmiliar" Forms!


The Modern Farmhouse -
An Evolving American Icon!

Farm House Design - 
Regional Riches!

Back to Standout Farmhouse Designs Home Page


Didn't find what you were looking for?
Use this search feature to find it.