The Single Floor House Plan...
Modern Marvels!
Exciting single floor house plan designs reflect elements of traditional agrarian architecture in sleek contemporary interpretations.  From Napa Valley to the Virginia countryside, the designs are inspired by rural vernacular styles specific to each region.  Open interiors illuminated by walls of windows offer all the conveniences of single level living!

Perched on a hillside overlooking California wine country, a striking design by archi- tect Hugh Newell Jacobsen takes its cues from the region's early 20th century farm buildings.  The architect's trademark arrangement of single story pavilion-like forms with gable roofs is neatly packaged in a modest 1,750 square foot plan.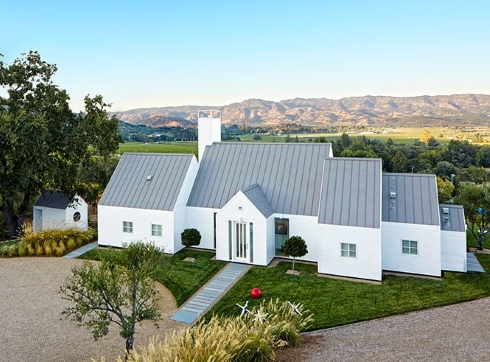 Perspective View of Front

Superbly sited, the home merges seamlessly with the vineyard-laden hills fanning out from the valley below.  A glazed wall offers panoramic views from inside.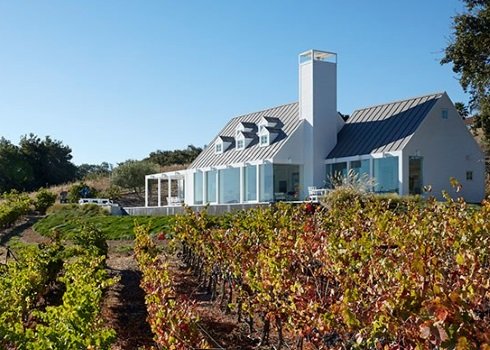 Perspective View of Back

A close-up of the back reveals a travertine tile terrace with an infinity pool.  Nearly doubling the size of the home's footprint, the outdoor space allows for entertaining large gatherings of family and friends . . . . . or deep contemplation of the surrounding hills bathed in the last rays of daylight.

The two bedroom, two bath home is arranged around a central "pavilion" (i.e., Great Room).  Anchored by a fireplace at one end, the Great Room merges kitchen, living and dining areas in a large open plan beneath a 22 foot high ceiling.

Single Floor House Plan: 1,750 square feet

Penetrating rays from overhead dormers reflect off gleaming white walls to create a cathedral of light.  A small space, thoughtfully designed, can feel utterly cosmic.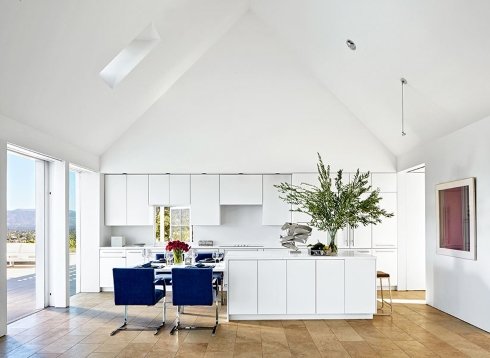 Great Room: View of Kitchen Area

Natural materials like stone floor tiles, marble countertops and leather furniture lend earthy weight to the otherwise light, seemingly weightless interior.   With its large expanses of glass, the home is a physical manifestation of the clarifying power of light.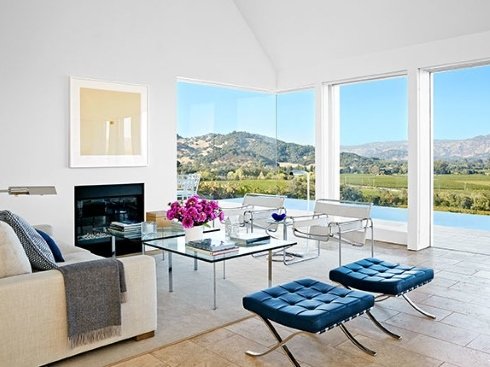 Great Room: View of Fireplace & Rear Window Wall

Photo Credits (above): Roger Davies

More about this Striking Design

Another Farm-Inspired Single Floor House Plan
Nestled at the edge of a rolling pasture bordered by woodlands in Albermarle County, Virginia, the Becherer house is a contemporary twist on a time honored theme.  The sleek design by architect Robert Gurney marries modern materials with traditional forms.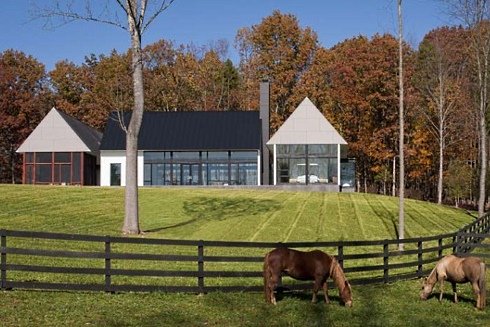 Rear View of Becherer House

Glass walls, cypress shiplap siding, cement board panels (in gable ends), and standing seam metal roofing unify three barn-like volumes or pavilions in a cohesive whole.  The modern abstract farm house consists of a large central block flanked by "wings" with front (and rear) facing gables.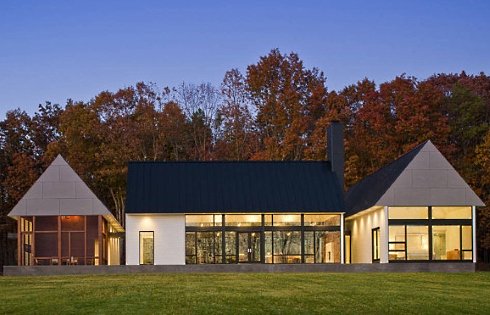 Closer-Up Rear View of Becherer House

The one room deep central block offers views of both the woods in front . . . and rolling pastureland in back.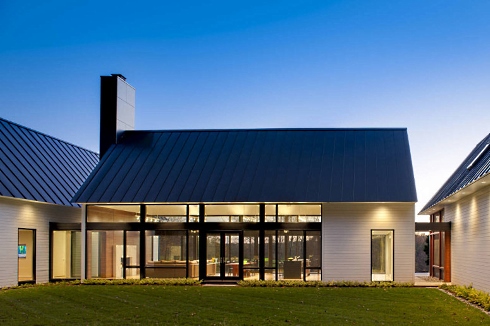 Front View Close-Up of Becherer House

Similar in part to the previous example at top of page, the primary living space or center of activity is housed, aptly enough, in the 1,000 square foot center pavilion -- with kitchen, living and dining areas flowing seamlessly beneath a soaring ceiling.  A 3/4 bath, laundry and storage closets are concealed behind the kitchen wall. 
Each of the flanking pavilions has a designated function.  The pavilion at right houses two bedrooms -- including the master suite -- with accompanying full baths.  An office or study separates the bedroom suites. 
The pavilion at left is occupied by a two car garage and a screened porch.  A covered passageway runs between them.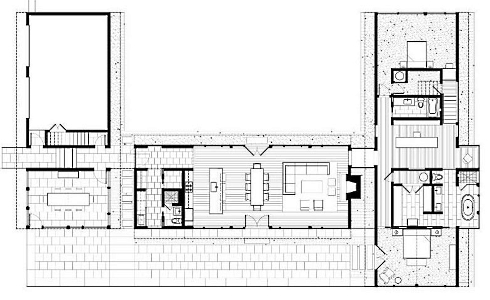 Main Floor House Plan

Quarter-sawn white oak flooring, along with oak and walnut cabinetry, lend warmth and character to the interior.  Suspended track lights help illuminate the kitchen work space and eating area.

View of Kitchen and Dining Area

Opposite the kitchen, a large fireplace makes an elegant focal point, as well as an inviting gathering spot.  Its gleaming white marble surround stands in sharp contrast to the backdrop of warm wood paneling.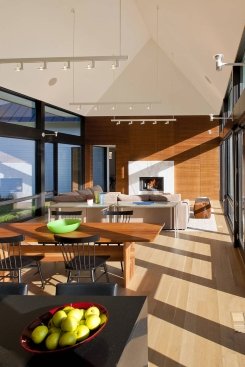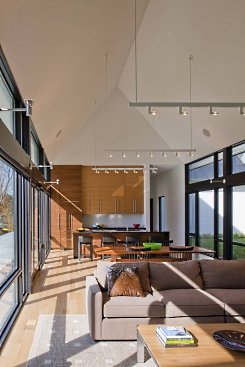 Left (above): View across Great Room toward Kitchen
Right (above): View across Great Room toward Fireplace

Becherer House Photo Credits: Maxwell MacKenzie

Hidden Opportunities for Expansion Possibilities
And just in case the family grows out of the single level living space . . . not to worry.  The area beneath the end pavilion gables is ample enough to accommodate a studio apartment or guest quarters over the garage (below left) and two additional bedrooms with a 3/4 bath in the upper level of the right pavilion.  A series of skylights illuminates the space from above.

Potential Expansion Space on Upper Level

More about Becherer House Plan

Please check back often or subscribe to our RSS feed, as we frequently add single floor house plans to our site.

YOU MAY ALSO LIKE:


Modern Farm House Floor Plan -
A Masterwork in the Midwest!

Country House Floor Plans -
Farmhouse Inspired!

Midsize Farm House Floor Plans
for Modern Lifestyles!


Small Country House Plans -
"Farmiliar" Forms!

The Modern Farmhouse -
An Evolving American Icon!


Farm House Design - 
Regional Riches!

Back to Standout Farmhouse Designs Home Page


Didn't find what you were looking for?
Use this search feature to find it.