Home Decor Interior Designs...
Modern Take on Traditional Theme!
The home decor interior designs (exterior, too!) featured here come from the talented husband and wife duo of Rehkamp Larson Architects in Minneapolis, Minnesota.  Their farmhouse designs are infused with a distinctively vibrant, contemporary flair. 
An expert on farmhouse design, Jean Rehkamp Larson literally wrote the book on it.  The Farmhouse: New Inspiration for the Classic American Home (see below right) is among the most notable publications on the subject in recent years.  Her studio's inspiring work brings a breath of fresh air to this iconic building type!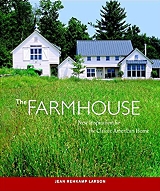 Rehkamp Larson Architects' unique take on modern farmhouse design is clearly evident in the exterior image below.  The gable end presents a stark contrast in architectural elements -- a WOW factor, if you will.  A single, traditionally styled window with four divided lights or panes punctuates Levels 1 and 2 (left of center on gable end below).  Juxtaposed to the right, a soaring wall of windows extends around the corner to flood the open interior stairwell with natural light.  Note how the divided light pattern is echoed in the larger windows to tie it together.
Also note the fine door detailing in the board and batten garage extension (far right, below).  Completing the composition, clapboard siding and a wraparound porch evoke the nostalgic charm of yesteryear.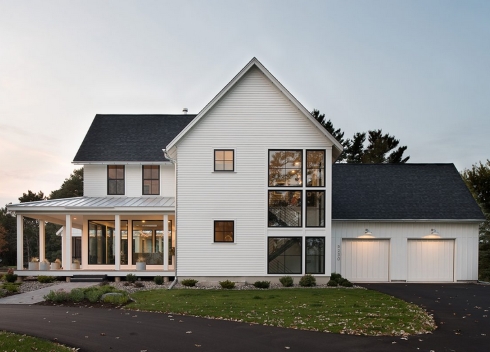 Porch side to pool side . . . . . . . Another exterior view showcases the sprawling wraparound porch, as well as a large three season screen porch (below, left) -- both of which open onto an intimate courtyard.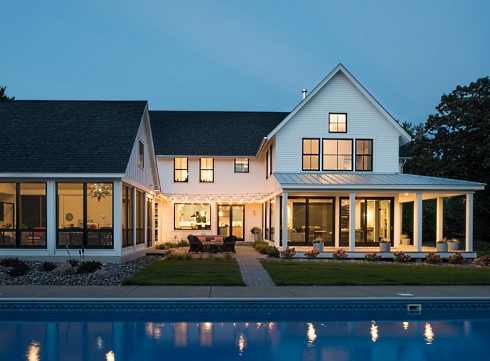 Home Decor Interior Design Photos
A tour of the home decor interior design begins with the three season porch. White- washed wood clad walls with large window openings trimmed in black are capped with a soaring, similarly clad ceiling.  The upper gable ends feature boards and battens.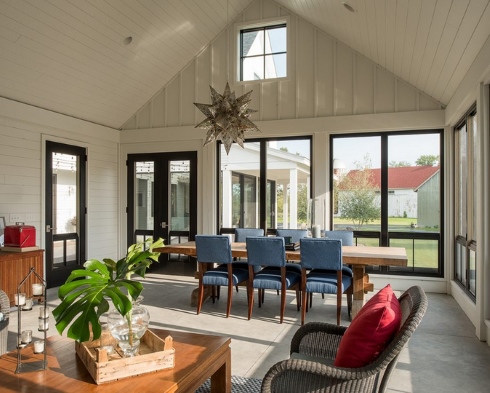 Spacious and accommodating, the room boasts a cozy sleeping nook at one end.  Wood and wicker furnishings lend a casual look.  Throw pillows provide colorful accents.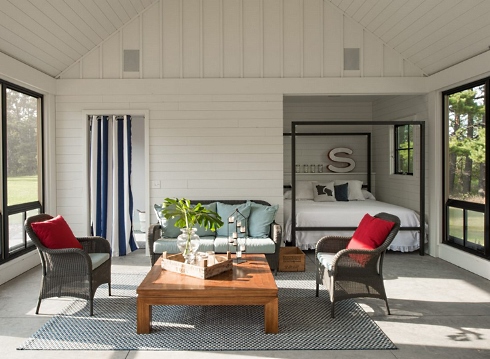 The kitchen features a breakfast nook with built-in seating and storage.  Naturally finished wood cladding on the ceiling and walls further delineates the space.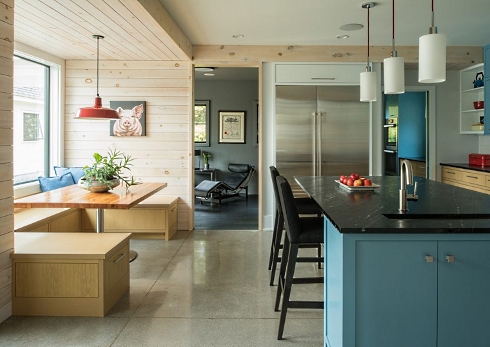 The food preparation area combines painted and natural or lightly stained wood millwork and cabinetry.  Hanging pendants illuminate the center island.  A white tile
backsplash and polished concrete floor provide the finishing touches.

The polished concrete floors extend to the dining and living rooms, as well.  A see through gas fireplace features a slate tile surround and built-in shelving at each end.  Note the touch of whimsy in the lighting fixtures above the dining table.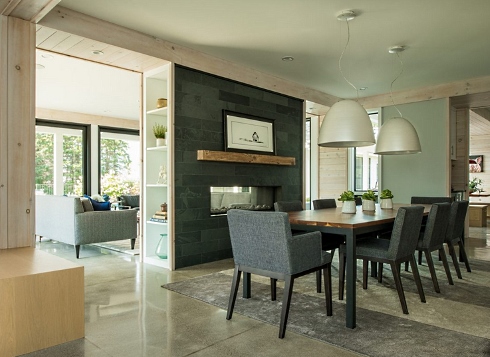 Floor to ceiling windows in the living room look out over the porch, providing panoramic views of the countryside.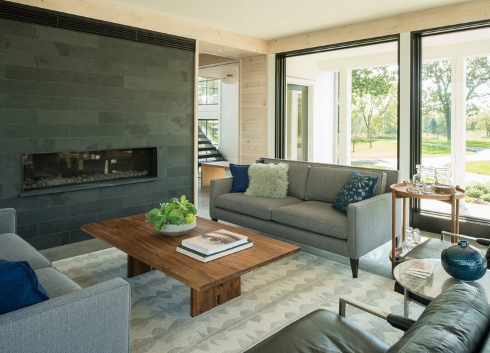 Soaring walls of vertically stacked windows enclose a contemporary steel staircase.  Note the finely detailed window mouldings.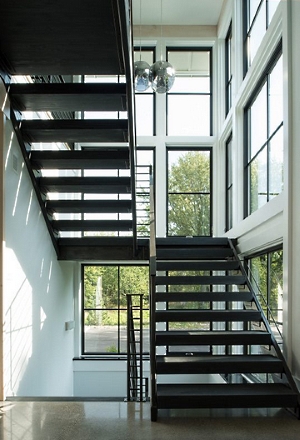 On Level 2, wide plank floors with a mellow sheen offer a pleasant counterpoint to the glass and steel stairwell.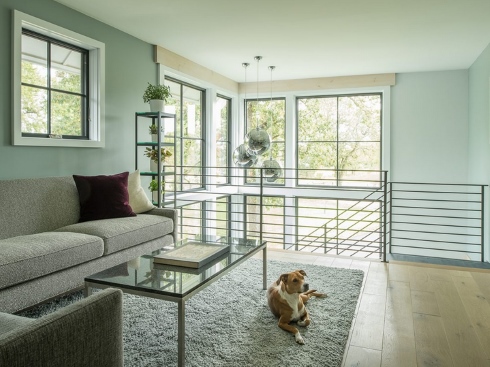 The master bedroom features a wood clad cathedral ceiling.  Stretching across the gable end, built-in seating nestles beneath a band of windows.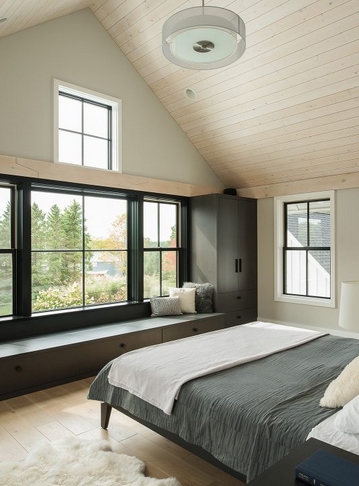 A parting shot at twilight.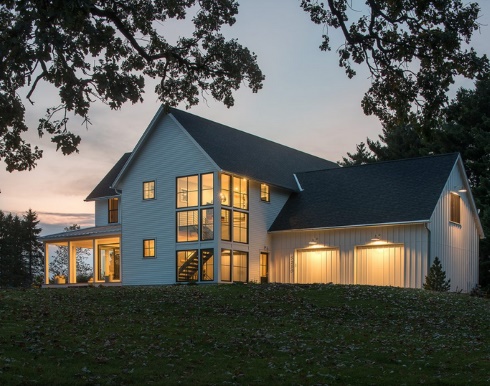 Photo Credits for Images Above: Scott Amundson

More images of this distinctive farmhouse design

See another striking farmhouse by Rehkamp Larson Architects

Architect and author Jean Rehkamp Larson's The Farmhouse: New Inspiration for the Classic American Home features a remarkable collection of 20 relatively new and remodeled farmhouses.  More than 300 photographs illustrate the rich regional diversity of this iconic building type.  Click here to learn more about this highly informative book.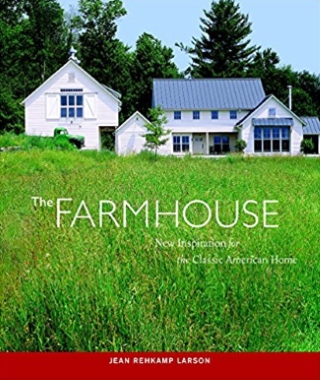 Please check back often or subscribe to our RSS feed, as we frequently add new home decor interior designs for farmhouses to our site.

YOU MAY ALSO LIKE:

The Modern Farmhouse -
An Evolving American Icon!


The Single Floor House Plan -
Modern Marvels!

Farmhouse Inspired Home Design -
Warm Wood Accents & Soothing Colors!

Back to Standout Farmhouse Designs Home Page


Didn't find what you were looking for?
Use this search feature to find it.