Barn Style House Plans...
Home Sweet Home!
Barn style house plans rise in popularity as we seek solace from the ever-increasing pace and complexity of daily life in the 21st century.    Inspired by the past but with all the comfort and convenience we've come to expect in a new home today, they provide an opportunity to make a uniquely personal design statement!

The White Mountains of New Hampshire provide a spectacular setting for an equally stunning design from Yankee Barn Homes.  A vibrant interplay of pattern, texture and color, the "Cabot" evokes the charm of yesteryear in a barn style house plan for
today. 
The post and beam home is clad with wood siding and a standing seam metal roof.  Details such as window shutters, bracketed roof overhangs, a cupola and hay hood (gable end roof extension) enhance its visual appeal.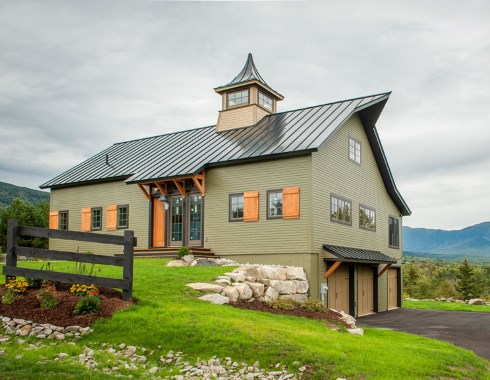 Photo Credit: Northpeak Design

An open floor plan with 2,367 square feet of living space includes three bedrooms and two and a half baths on two levels.  The front entrance hall leads to a Great Room with stone hearth and soaring cathedral ceiling.  Across the room, a wall of windows offers panoramic views of the landscape.
At right, the eat-in kitchen opens to the dining room, which in turn opens to the Great Room.  A set of French doors leads from the dining area to a sun room.  The expansive rear deck offers plenty of space for outdoor entertaining. 
At left, the master bedroom features a large walk-in closet.  The master bath includes dual vanity sinks and a private toilet.

The Cabot -- Level 1

View of Great Room hearth and wall of windows
Photo Credit: Northpeak Design

Upstairs, a catwalk or "bridge" overlooking the Great Room and entry hall, below, leads to two additional bedrooms and a full bath.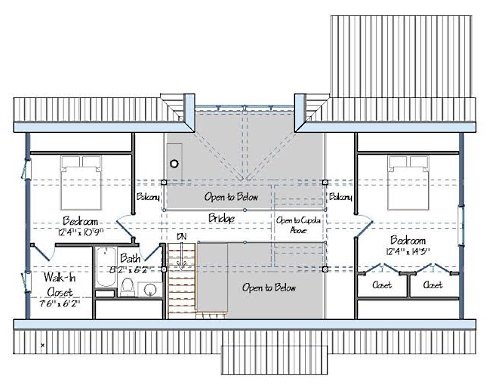 The Cabot -- Level 2

More Barn Style House Plans
A design from American Post & Beam embodies elements of vintage carriage house architecture.  The "Vermont Hilltop" barn home features a symmetrical facade pierced by double-hung windows with divided lights.  A cupola crowns the roof.

Inside the 2,872 square foot dwelling, a traditional center hall plan transitions to an open kitchen, dining and living room extending across the back.  French doors lead from the living room to a library and covered porch.  To the right, a screened porch adjoins the kitchen. 
The master bedroom suite includes a walk-in closet and dual vanity sinks.  A laundry room and half bath complete Level 1.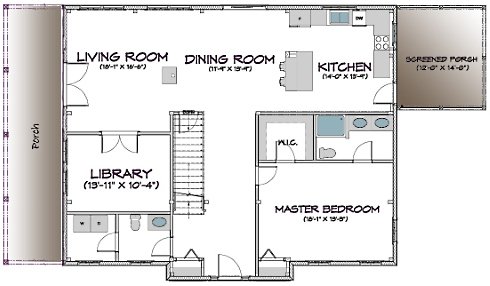 Level 1: 1,608 square feet

Tucked beneath the gable roof on Level 2 are three bedrooms, a full bath and a loft/office.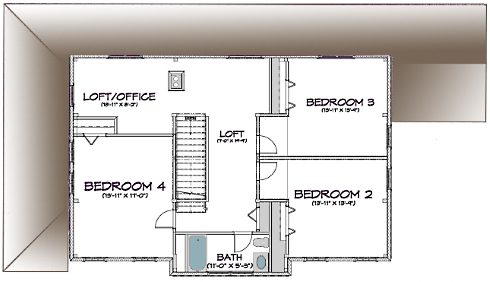 Level 2: 1,264 square feet

More about "Vermont Hilltop" Plans

A dramatic two and a half story window overlooks the tranquil landscape in which it is set.  The "Merrill Brook" from Yankee Barn Homes is a rambling barn style design with 3,864 square feet of living area on two levels.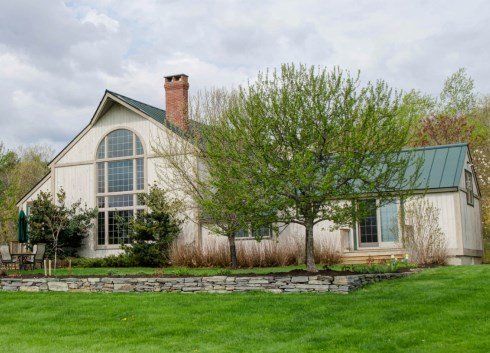 Photo Credit: Wave5 Productions

The "L" shape plan features an open interior with kitchen, breakfast area, dining room, library and Great Room flowing seamlessly into one another.  The master bedroom suite occupies one end of the main floor, while a covered porch leads to a three car garage at the other end.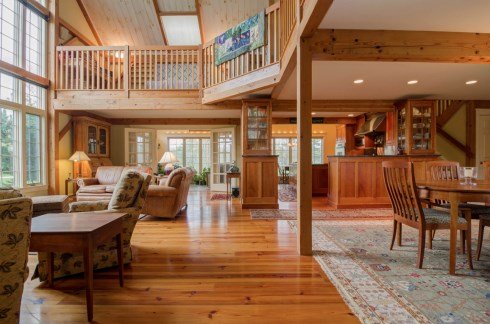 View of open floor plan on main level
Photo Credit: Wave5 Productions

Varying ceiling heights lend visual appeal and help to define both grand and intimate spaces.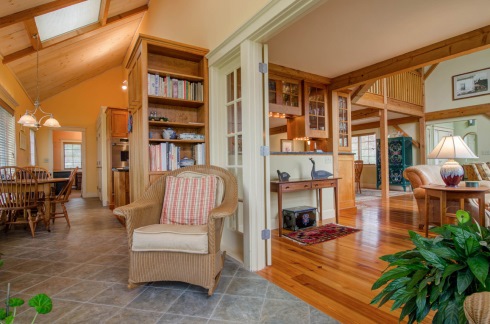 Photo Credit: Wave5 Productions

Level 2 includes two additional bedrooms, a den and full bath.  A large balcony overlooks the soaring Great Room below.

More about "Merrill Brook" Plans

Looking for something smaller?
Small Barn House Plans...
Soaring Spaces!

Please check back often or subscribe to our RSS feed, as we frequently add new barn style house plans to our site.

YOU MAY ALSO LIKE:


The Single Floor House Plan -
Modern Marvels!


Small House Plan Designs
for Farm & Barn Cottages!

Small House Floor Plans
from Catskill Farms!

Small Barn House Plans -
Soaring Spaces!


Tiny House Plans
for Farm Cottages!

Barn Home Designs -
Reflections of Yesteryear!



Farm House Designs -
More Popular than Ever!

Back to Standout Farmhouse Designs Home Page


Didn't find what you were looking for?
Use this search feature to find it.