Farmhouse House Plans
for Growing Families!
Farmhouse house plans with traditional exteriors and spacious interiors (3,175 to 3,463 square feet) offer plenty of room for growing families.  Large covered porches expand the living area to the out of doors.  Regional style variations from New England Colonial to Folk Victorian incorporate authentic details like dormers and divided light windows with shutters.  While "making do" was a normal part of living in a farmhouse 50 to 100 years ago, these farmhouse house plans offer spaciousness and luxury that are anything but!

This 3,463 square foot house is designed to let the outside in.  With minimal interior walls on the first floor, light streams unobstructed from four directions, connecting the classic L-shaped front porch with the 3 or 4 season screen porch in back.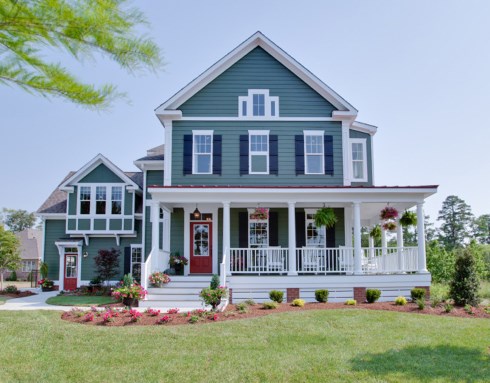 The flow of the first floor is easy, one room effortlessly opening into another.  The kitchen is well positioned as the epicenter of the house's activities, its space fanning out into the breakfast nook, screen porch, large living room, and dining room. Tucked away behind the 2 car garage is a suite for those who could use a little time away from the comings and goings of the household.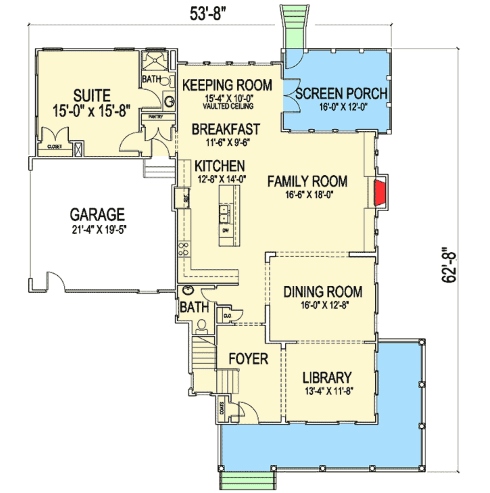 Level 1:  1,766 sq. ft.

The second floor houses 3 bedrooms including a rather grand master suite with vaulted ceiling.  In addition, there is a "bonus room" which could itself house a small family or a large sleepover.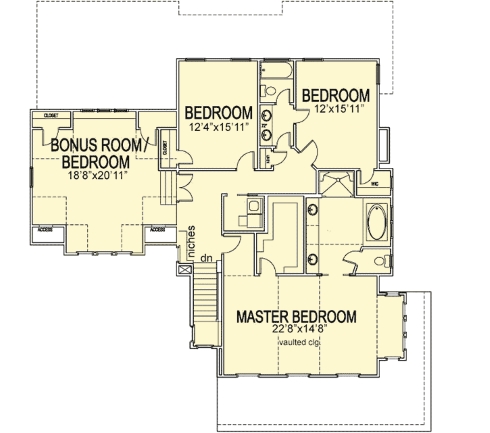 Level 2:  1,697 sq. ft.

More about this Farmhouse Plan

More Farmhouse House Plans

Moving to the southern vernacular style, this farmhouse-inspired design from Our Town Plans, dubbed the Shenandoah Court, encompasses 4,195 sq. ft., and contains 3 bedrooms and 3.5 bathrooms -- ample space for a growing family!  Like most southern houses, much of the design of this house plan is geared to staying comfortably cool when the summer heat arrives.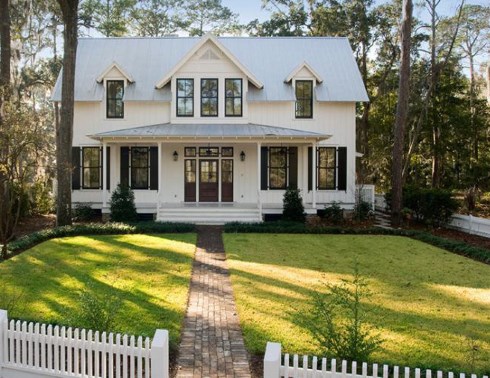 The first floor features a master suite, living room, and dining room -- all of which open to a large screened porch in the back.  On a hot day, this becomes a breezy oasis.   The hearth-centered living room soars to catch the light via high clerestory windows.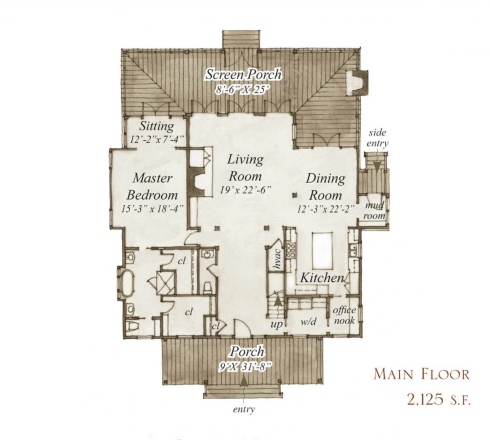 Upstairs, a landing or loft overlooks the living room, below, and leads to two bedrooms -- each with its own full bath.  A "bunk room" provides additional space for sleepovers.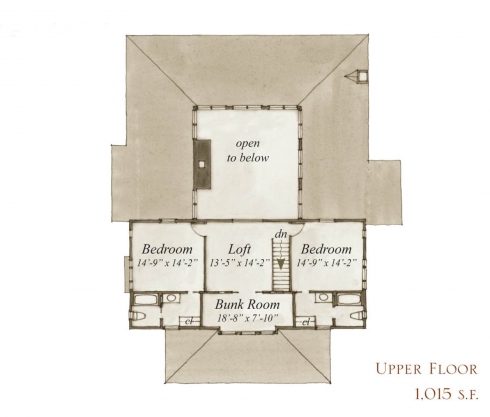 More about "Shenandoah Court" Farmhouse Plan

The colonial style farmhouse pictured below features a grand wraparound porch, ideal for sipping lemonade from the relaxed comfort of a rocking chair.  Built by Bergeron Custom Homes, the 3,400 square foot plan includes 4+ bedrooms, 3 full baths, and 3 half baths.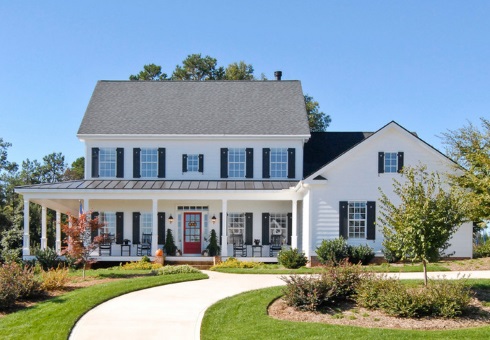 A close-up view of the front porch design highlights the attention to detail employed in this plan.  Note the recessed panels and rich mouldings around the posts.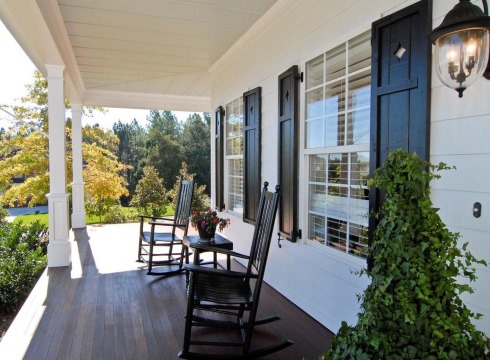 The first floor combines the secluded luxury of a large master suite with the airy openness of the kitchen, family room, and breakfast area, and the graceful formality of the dining room and front study.  The large two car garage with extra storage reminds us of the century in which we live, while the efficiently placed laundry and mud rooms make household chores more manageable.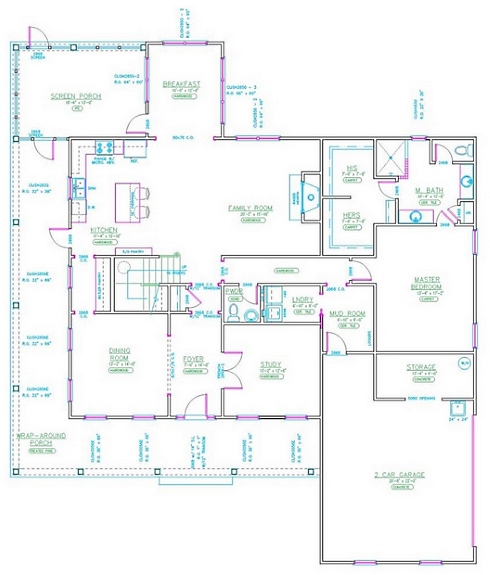 Farmhouse Floor Plan - Level 1

Ascending the staircase, one enters a wide central hallway leading to three spacious bedrooms and a recreation room.  One bedroom contains its own full bath -- sure to be hotly contested real estate!  Fortunately for the residents of the other rooms, the second floor includes an additional full bathroom.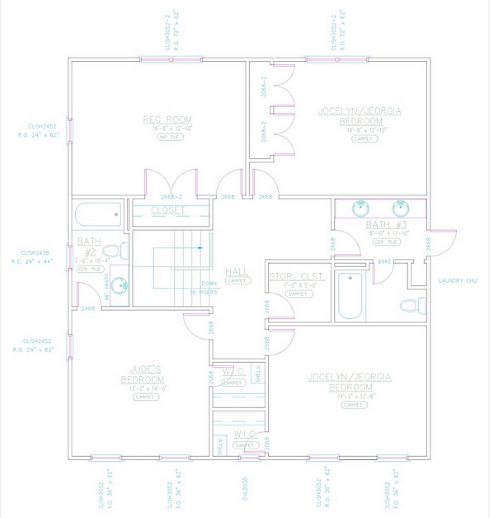 Farmhouse Floor Plan - Level 2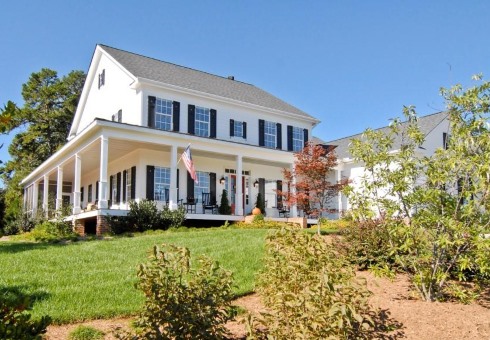 Please check back often or subscribe to our RSS feed, as we frequently add new farmhouse house plans to our site.

YOU MAY ALSO LIKE:

New House Floor Plans -
Old House Charm!


Country House Floor Plans -
Farmhouse Inspired!


Small Farm House Plans -
Opportunities for Growth!


Midsize Farm House Floor Plans
for Modern Lifestyles!


Small Farmhouse Plans -
Country Cottage Charm!


Tiny House Plans
for Farm Cottages!

Back to Standout Farmhouse Designs Home Page


Didn't find what you were looking for?
Use this search feature to find it.