Midsize Farm House Floor Plans
for Modern Lifestyles!
The word "farmhouse" evokes many images: cozy living rooms heated by fireplaces or corner wood stoves, large kitchens perfect for preparing huge family feasts or for quiet study late at night, and porches that could slow the movement of time to an
imperceptible trickle. While the classic farmhouse encompasses all those things, those of us who have lived in them know that they also include drafty hallways, a shortage of bathrooms, and antiquated floor plans that could give one cabin fever in the middle of summer.  Modern farm house floor plans, however, elegantly combine the best of our Norman Rockwell visions with the space, comfort, and efficiency of contemporary living.

The "Edgewood" is the paradigmatic New England farmhouse.  Green shutters, clapboard siding, a solid stone chimney, and a metal roof to last a lifetime all speak to the practical, yet warm aesthetic of American farmhouse architecture.  The smells of fallen leaves and fresh apple cider wafts through the corridors of memory.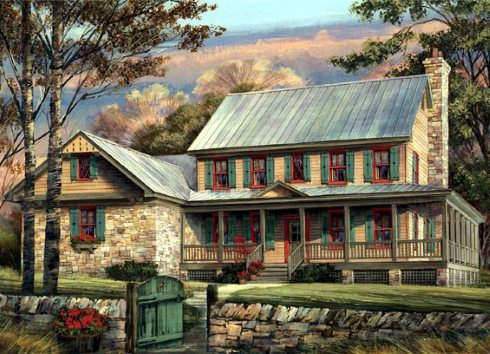 The main floor features a great room with high ceilings centered on a large stone hearth, which is backed by a kitchen, breakfast alcove, and screened porch.  The effect is an open space perfect for large holiday gatherings or lazy afternoons.  Slightly removed, the first floor master suite contains a spacious bedroom, a bathroom with shower and tub, and a walk-in closet in which one could walk in and get lost.  The plan is both warm and elegantly fluid.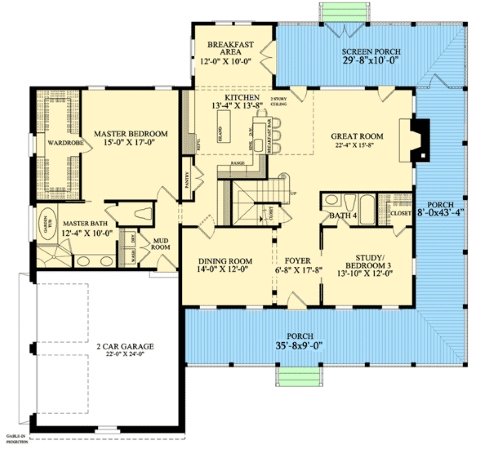 Level 1: 2,044 sq. ft.

Up the winding staircase, the second floor landing comes with a balcony view of the great room, and spills out into three bedrooms, two full bathrooms, a rec room, and ample space for storage.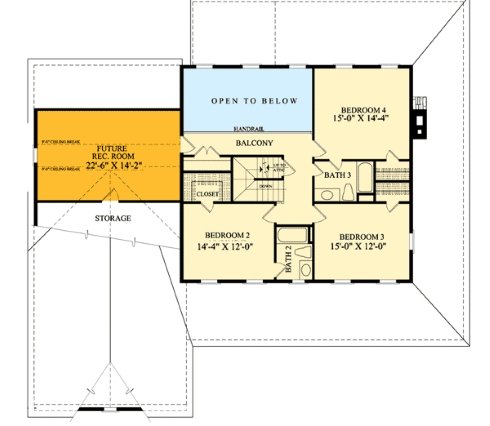 Level 2: 995 sq. ft.

More Midsize Farm House Floor Plans
Four Gables
Designed by architect Mitchell Ginn for Southern Living Magazine, the "Four Gables" is the essence of so much of what is gracious, charming, and beautiful in southern vernacular design.  As one contemplates the beautiful watercolor rendering, one can almost hear the meditative sound of the rain falling upon the metal roof.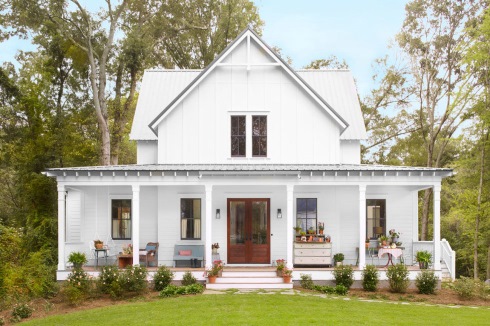 "Four Gables" (via Country Living)
Photo Credit: Max Kim-Bee

Bordered by two gracious, white columned porches, the heart of the house is the large, open first floor with kitchen, living, and dining rooms flowing together in spacious harmony, and, in pleasant weather, extending the life of the house even further to the back porch.  The master suite is also connected to the flow of the first floor and the back porch, but is also slightly secluded in feel, creating a cloistered space to rest and take refuge from the cares of the world.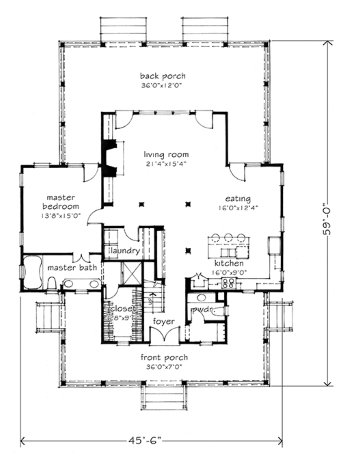 Level 1: 1,397 sq. ft.

The second floor offers 944 square feet distributed among two large bedrooms with full baths, a small loft, and a third room to be used for whatever purpose one could dream up.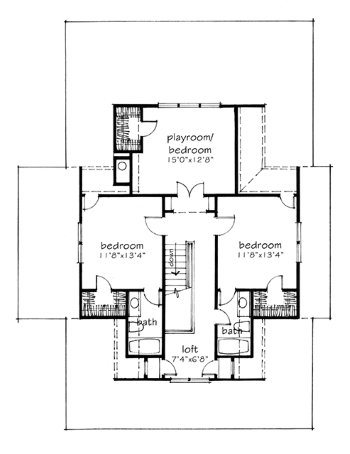 Level 2: 944 sq. ft.

More about "Four Gables" Farm House Floor Plans

The Ingalls
The "Ingalls" is rooted in the aesthetic of the late 19th century upper Midwest farmhouse.  The modern send up proves to be a not so little house on the prairie, offering a spacious (2,964 sq. ft.) and light filled feel.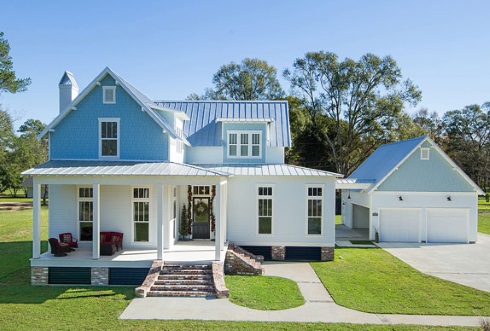 Entering through the especially tall front porch (tall windows maximize the winter sunlight) the first floor pairs the master suite on one side of the foyer with an open plan family/dining/kitchen area on the opposite side. Passing under the stairs, the laundry/mudroom is connected via breezeway to the garage and a home office that can provide the seclusion often necessary for deep focus.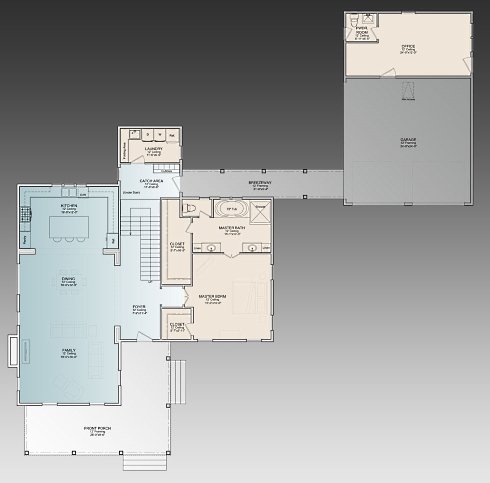 Level 1: 1,855 sq. ft.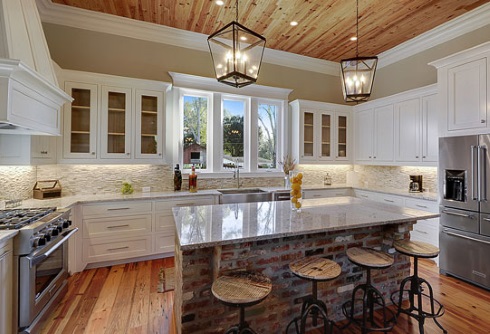 The "Ingalls" Farmhouse Kitchen Design

The second floor features two spacious bedrooms, each with full baths, and a generous open space for a gym, yoga studio, or entertainment haven.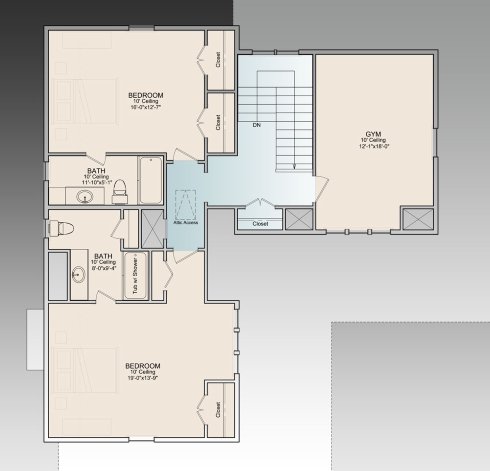 Level 2: 1,109 sq. ft.

More about "Ingalls" Farm House Floor Plans

Please check back often or subscribe to our RSS feed, as we frequently add new farm house floor plans to our site.

YOU MAY ALSO LIKE:

New House Floor Plans -
Old House Charm!


Modern Farm House Floor Plan -
A Masterwork in the Midwest!


Country House Floor Plans -
Farmhouse Inspired!


The Single Floor House Plan -
Modern Marvels!


Small House Plan Designs
for Farm & Barn Cottages!


Small House Floor Plans
from Catskill Farms!


Small Country House Plans -
"Farmiliar" Forms!


Small Cottage House Plans -
Farm Style Features!


Small Farm House Plans -
Opportunities for Growth!


Small Farmhouse Plans -
Country Cottage Charm!


Tiny House Plans
for Farm Cottages!


Barn Style House Plans -
Home Sweet Home!

Back to Standout Farmhouse Designs Home Page


Didn't find what you were looking for?
Use this search feature to find it.