Small House Plan Designs
for Farm & Barn Cottages!
The small house plan designs profiled here come from two specialty firms in the northeastern United States.  "New old homes" from Catskill Farms in Upstate New York and Pennsylvania-based Woodhouse Timber Frame Company blend present-day planning and convenience with old fashioned charm!

Farmhouse 8

"Farmhouse 8" (below) is a two story New England cottage from Catskill Farms.  The 1,600 square foot design features a symmetrical facade with double hung windows and a full width porch.

"Farmhouse 8"

Clad with wood siding, the cross gable cottage is anchored to its site by a large chimney.  A small porch frames the service entrance in back.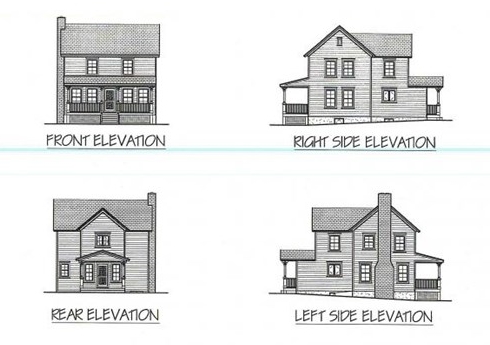 Level 1 (below left) features an open floor plan with adjoining dining and living rooms warmed by a cozy hearth.  Just beyond is the kitchen which, in turn, leads to the back porch.  A powder room is located off the rear entrance hall.  Directly opposite is another room that can serve as a pantry, laundry or storage area.
The upper level (below right) houses three bedrooms -- each of which provides a perfect place to snuggle under a warm blanket, sip hot cider, read a book, meditate, or watch a movie while the winter winds blow through the trees.  A full bath completes this level.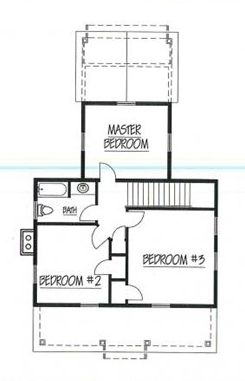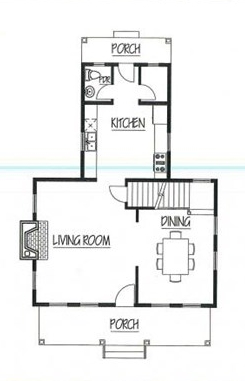 Farmhouse 19

At just under 1,600 square feet, this small house plan from Catskill Farms packs a great deal of functionality and comfort into a fairly compact footprint.  Through-the-cornice dormers echo the detailing of the front facing gable at right.  A shed roof extends over the deep front porch.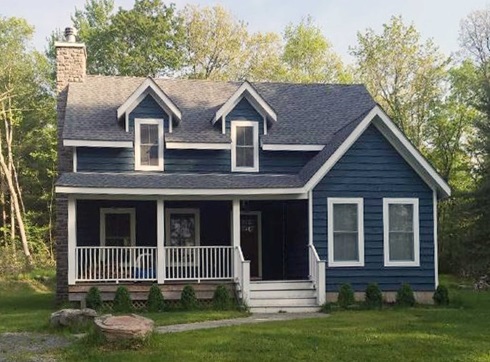 "Farmhouse 19"

While the exterior communicates the virtues of more than a century past, the interior espouses the virtues of the here and now.  The main area of the first floor is an open space, combining the dining, cooking, and living areas -- perfect for quiet nights in, or festive gatherings with friends that spill out onto the large rear deck.  Off to one side of the main living area is a master bedroom suite and a 3/4 bath.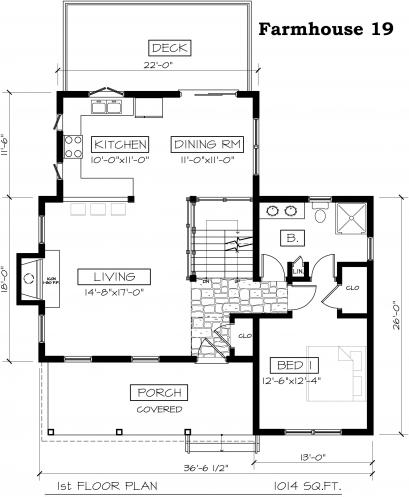 An open staircase rises to a landing with views of the stone paved foyer below.  A spacious corridor at the top of the stairs leads to two bedrooms, a full bath and linen closet -- all cozily nestled under the sheltering eaves of the roof.

More about "Farmhouse 19" Plan

See More Small House Floor Plans from Catskill Farms!

"PrairieView" Small House Plan
Available from the Woodhouse Timber Frame Company, this 1,600 square foot barn home resembles a stable or western horse barn on the outside . . . with a central block flanked by lean-tos clad with boards and battens.  The interior, however, offers all the warmth, comfort, and modern amenities required for human habitation.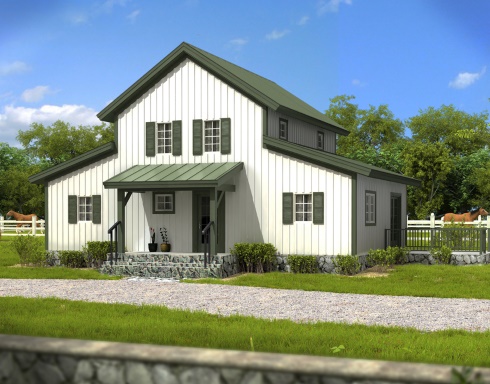 "PrairieView" Small Barn Home

Sheltered by a metal shed roof, the entry door opens to a center hall flanked by a staircase (left) and coat closet with bi-fold doors (right).  The kitchen, which may be accessed from the hall, opens to a spacious living and dining area nearly 30 feet in length along the back of the home.  French doors open onto a large outdoor deck from the dining area.  Two bedrooms and a full bath occupy the space at left.

Atop the stairs on Level 2, a generously sized loft -- ideal for a study or library -- is lit by windows on three sides.  The master bedroom suite, accessed from the loft, includes a window seat flanked by closets.  A full bathroom completes the master suite.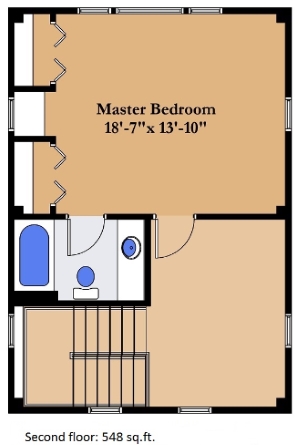 See More Small Barn House Plans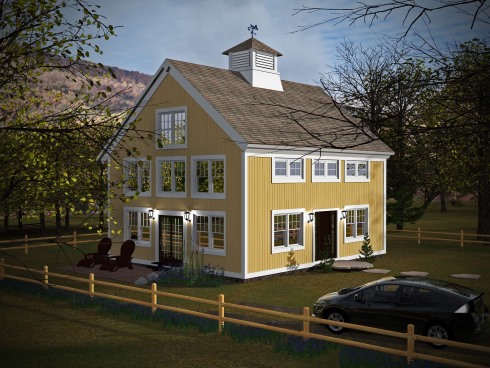 Please check back often or subscribe to our RSS feed, as we frequently add small house plan ideas to our site.

YOU MAY ALSO LIKE:


The Single Floor House Plan -
Modern Marvels!


Small House Floor Plans
from Catskill Farms!


Small Country House Plans -
"Farmiliar" Forms!


Small Cottage House Plans -
Farm Style Features!


Small Farmhouse Plans -
Country Cottage Charm!


Small Farm House Plans -
Opportunities for Growth!

Back to Barn Style House Plans
Back to Standout Farmhouse Designs Home Page


Didn't find what you were looking for?
Use this search feature to find it.