Tiny Houses for
Farm Style Retreats!
The tiny houses featured here will have you longing for the serenity of a simpler life.  Nestled in tranquil country settings, the farm-inspired designs feature gable roofs and lean-tos.  Clapboards, boards and battens frame multi-pane windows and doors.  Porch posts, picket fences and garden gates add layers of frosting to form delightful architectural confections!

The aptly named "Doll House" (below) embodies the very image described above.  Located in Plymouth, New Hampshire, the restored 1920 farmhouse includes a fully equipped kitchen, living room, two bedrooms and a bath in under 700 square feet of living space.  A charming picket fence borders lovely gardens on the property. 
The "Doll House" is currently available as a vacation rental.  Please visit Airbnb for more information.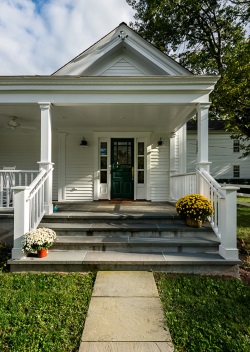 A new "micro home" in Connecticut echoes the Greek Revival style and detailing of an adjacent 19th century farmhouse.    Designed by Crisp Architects, the 650 square foot dwelling fea- tures a gracious front porch with an additional 350 square feet.  According to architect James Crisp, the full time residence "lives big on a small footprint."
Right: Gracious front entry
Below: Perspective view of "micro home"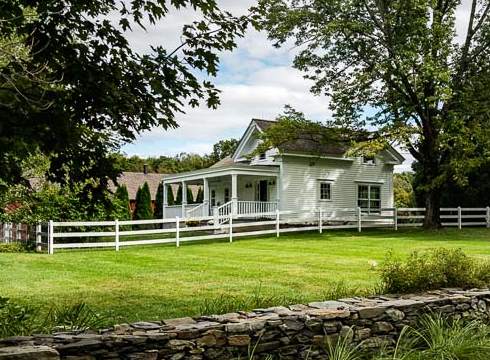 A tiny stone cottage (below) in Villanova, Pennsylvania underwent an extensive restoration under the direction of Peter Zimmerman Architects.  Built around 1790 as
a farm cottage with attached spring house on the right  --  a precursor to today's refrigerator -- the 900 square foot structure now serves as a pool house, home office and guest house.

Front View (Tom Crane Photography)

Rear View (Tom Crane Photography)

Barn Style Tiny Houses
Inspired by farm outbuilding architecture of yesteryear, the tiny homes that follow include present-day interpretations of a barn and a corn crib designed for human habitation.  "Yum Yum Farm" (below) in Wellman, Iowa features a barn style dwelling with 950 square feet of living area.  A collaborative effort by the homeowners and Seattle-based DeForest Architects, the house was built in 2007.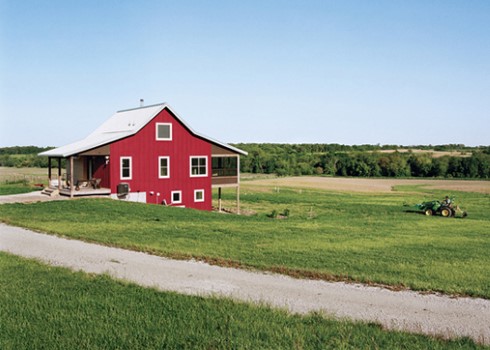 Photo Credit: Mark Mahaney

"The Crib" derives its inspiration from slatted farm structures used for drying and storing corn.  Designed by Broadhurst Architects, the 250 square foot interior opens via a garage style door to an outdoor deck encompassing an additional 140 square
feet.  Learn more about "The Crib" here.

"The Crib" with exterior deck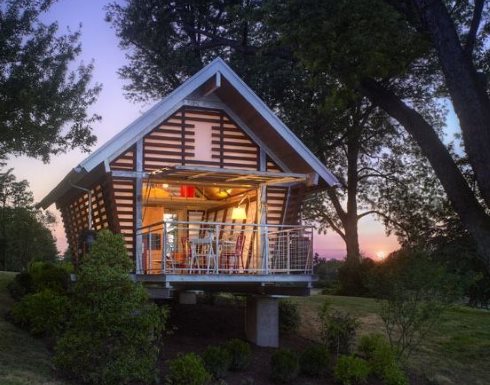 View of "The Crib" at twilight

Please check back often or subscribe to our RSS feed, as we frequently add tiny farmhouse designs to our site.

YOU MAY ALSO LIKE:

Small Farm House Plans -
Opportunities for Growth!


Tiny House Plans
for Farm Cottages!


Small Farmhouse Plans -
Country Cottage Charm!

Back to Standout Farmhouse Designs Home Page


Didn't find what you were looking for?
Use this search feature to find it.