Farm House Plans
for Today!
Farm house plans are back by popular demand.  Reconfigured for present-day lifestyles, they evoke nostalgic charm.  New farmhouses are springing up across the country in both rural and urban settings.  Despite -- and perhaps because of -- the rapid disappearance of family farms in recent decades, this iconic building type continues to exert a powerful hold on us.    According to Minneapolis author and architect Jean Rehkamp Larson, "the style endures because we have come to see it
as a classic symbol of home -- an unforgettable feature of the American landscape."  (excerpt from The Farmhouse -- New Inspiration for the Classic American Home by Jean Rehkamp Larson)

Glenview Cottage

Classic farmhouse styling meets 21st century livability in a plan by Moser Design Group for Southern Living.    "Glenview Cottage" features a charming front bay, shuttered double-hung windows and a wraparound porch.  Clapboard siding and a metal roof protect it from the elements.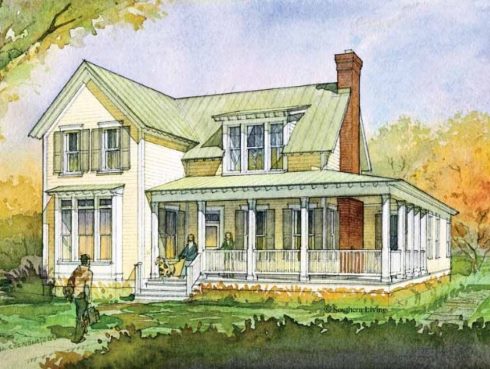 The interior encompasses 2,524 square feet of living area on two levels.  The main level features an open floor plan with kitchen, living, and dining room flowing into one another.  A front facing den opens to the wraparound porch through a set of French doors. 
A wing extension in back (right) houses the master bedroom suite, which includes two walk-in closets, dual vanity sinks, separate tub and shower, sitting area, and private toilet.  Opposite the master bedroom "wing," a screened porch doubles as a rear entrance.

Level 1: 1,738 square feet

A spacious stair landing on the upper level leads to two bedrooms and a full bath with dual sinks.  Three closets and a large storage area complete Level 2.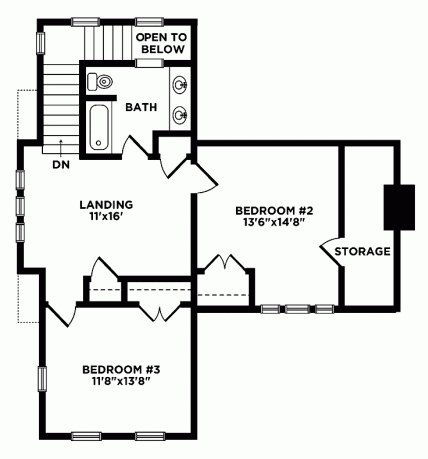 Level 2: 786 square feet

More about "Glenview Cottage" Plans

A scaled down plan similar in design to the farmhouse cottage above is also available from Southern Living.  "Bucksport Cottage," pictured below, encompasses just under 1,800 square feet on two levels.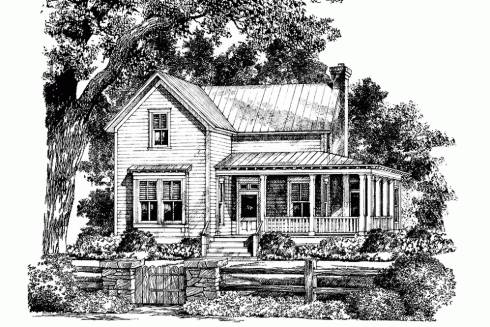 Above: Bucksport Cottage

The Homesteader

A traditional farm house plan from New South Classics derives its inspiration from the early 19th century vernacular of America's southern Piedmont region.  "The Home- steader's" twin chimneys and gabled volumes of varying heights form a picturesque composition that appears to have grown over time.  It's stone and clapboard exterior is pierced by double-hung windows with divided lights in the upper sashes.  An inviting porch shelters the entrance and wraps around three sides of the front facing gable.

The 2,718 square foot interior boasts a Great Room with fireplace and built-ins on Level 1.  French doors, flanked by large paired windows, lead to a gracious covered veranda that extends across the back of the home. 
Adjoining the Great Room at one end, the kitchen features a center island and a dining alcove with walls of windows.  A set of French doors opens to the veranda. 
The opposite end of the Great Room is bounded by the master bedroom suite, which includes a fireplace beneath a beamed cathredral ceiling, two walk-in closets and a separate tub and shower.  Once again, a pair of French doors opens to the covered veranda or porch in back.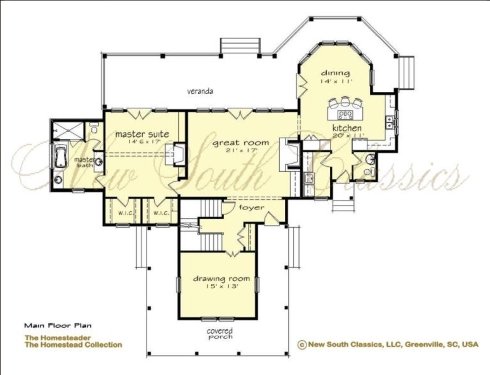 Level 1: 1,800 square feet

A winding stairway leads to three additional bedrooms and one and three quarter baths on Level 2.  A slightly larger version of this plan is also available, in which Bedroom 3 extends over the kitchen below for a gain of about 120 square feet.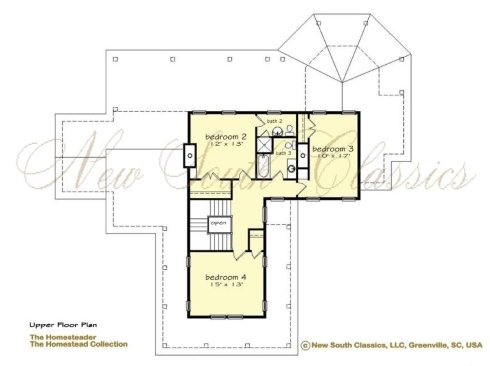 Level 2: 918 square feet

More about "The Homesteader" Farm House Plans

Modern Farm House Plans
A contemporized farm house plan by Nick Lee Architecture takes its design cues from prairie or Western barns of the 19th century.  The board and batten exterior features tall paired windows and a recessed front entry.  Standing seam metal clads the roof.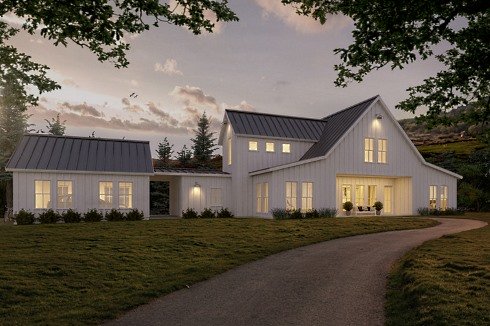 The crisp contemporary interior features an open floor plan of 3,038 square feet.  The primary living area or public space is contained within a central "block" running front to back, with three bedrooms, two and a half baths, and a study aligned along the sides. 
The two story Great Room features a built-in window seat flanked by shelving and storage niches on one wall,  with a fireplace directly opposite.    Large double-hung windows flood the room with natural light while multiple doors open to a covered porch or "lanai" running along the back and around one side. 
The master bedroom features built-in bookcases, a dressing/wardrobe area and walk-in closet.  The master bath includes a private toilet, separate tub and shower, and dual vanity sinks illuminated by a skylight above. 
A mud room with laundry and workshop space provides a side entrance, sheltered by a covered breezeway that connects to the two car garage.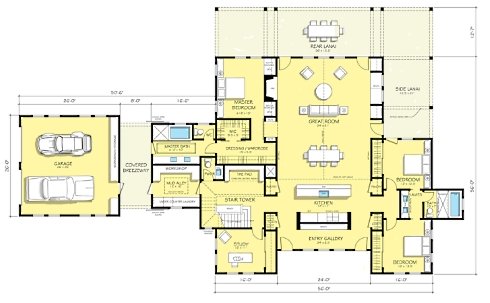 Level 1: 3,038 square feet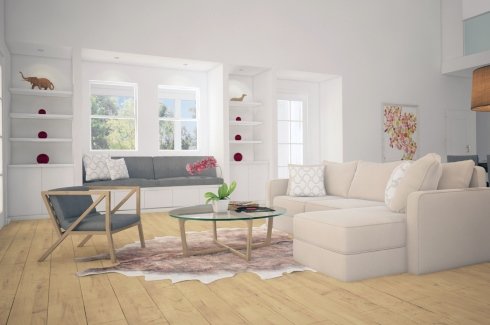 View across Great Room toward window seat and shelving niches

If additional space is needed, the plan can be expanded to include a "Bonus Area" of 549 square feet in the loft above the kitchen.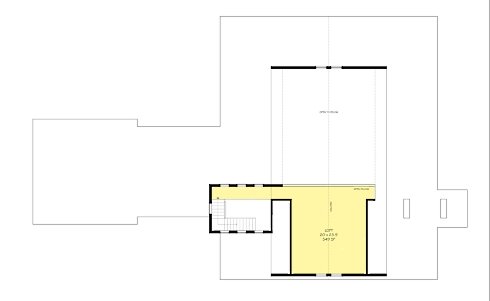 Level 2 (Optional): 549 square feet

More about Modern Farm House Plans Above

See More Barn Style House Plans!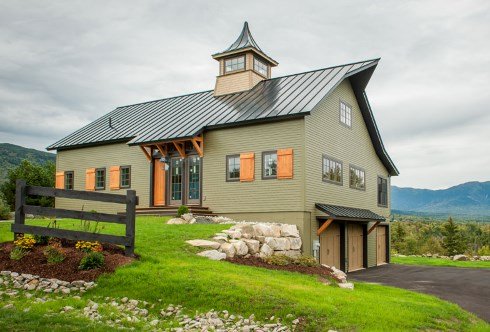 Please check back often or subscribe to our RSS feed, as we frequently add new farm house plans to our site.

YOU MAY ALSO LIKE:


New House Floor Plans -
Old House Charm!

Modern Farm House Floor Plan -
A Masterwork in the Midwest!

Country House Floor Plans -
Farmhouse Inspired!

The Single Floor House Plan -
Modern Marvels!

Small House Plan Designs
for Farm & Barn Cottages!

Small House Floor Plans
from Catskill Farms!

Small Country House Plans -
"Farmiliar" Forms!

Small Cottage House Plans -
Farm Style Features!
Small Farm House Plans -
Opportunities for Growth!

Farmhouse House Plans
for Growing Families!


Midsize Farm House Floor Plans
for Modern Lifestyles!


Tiny House Plans
for Farm Cottages!


Small Farmhouse Plans -
Country Cottage Charm!


Barn Home Designs -
Reflections of Yesteryear!

Back to Standout Farmhouse Designs Home Page


Didn't find what you were looking for?
Use this search feature to find it.