Small House Floor Plans
from Catskill Farms!
Small house floor plans and designs from Catskill Farms are inspired by early 20th century vernacular styles found in the foothills of the Catskill Mountains in Upstate New York.  The company employs a delicate blend of salvaged and new materials in the construction of its new old homes.  According to founder Charles Petersheim, "While we capture the charm, beauty and character of the early 1900s, we eliminate all the hassles and maintenance related to an old house."

At just over 1,500 square feet, "Farmhouse 25" (below) is loaded with charm.  Beneath its gables, a covered porch extends across the front and nearly half way around each side -- perfect for reflecting on the beauty of nature.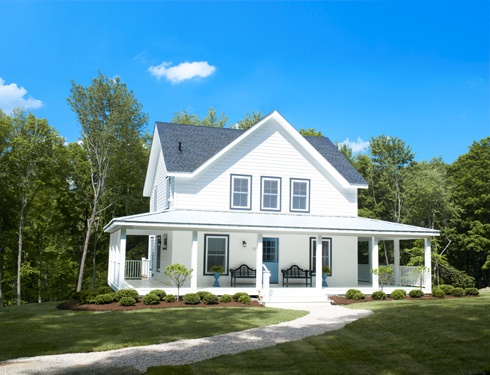 "Farmhouse 25" from Catskill Farms

Moving inside from the comfort of the porch, Level 1 features an open floor plan interrupted only by a central staircase.  The kitchen, dining and living areas flow smoothly around the stairs.  Near the living room fireplace, a pair of French doors opens to a spacious deck in back.  A full bath is tucked in a corner just inside the front entry.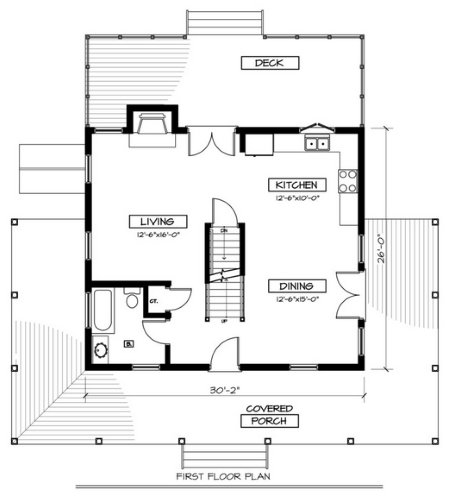 Upstairs, a short hallway leads to the master bedroom and two additional bedrooms.  A full bath with linen closet completes Level 2 of this small house floor plan.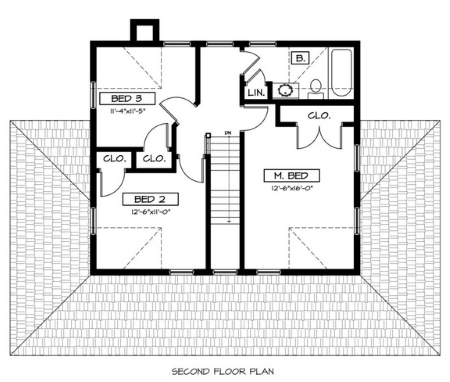 More about "Farmhouse 25" Plan

A collaborative effort with KLM Architect, the 1,400 square foot design for "Farmhouse 23" consists of a central block with front facing gable, flanked by lean-tos.  The symmetrical facade includes a porch with shed roof.

"Farmhouse 23" from Catskill Farms

The entry hall, flanked by a stairway at left and a full bath and coat closet at right, offers a straight line view through the home to the wraparound deck in back.  Spacious living and dining rooms flow seamlessly into one another, as well as the kitchen, which opens to a screen porch through sliding glass doors.  A single bedroom rounds out Level 1.

The stairway to the second floor is bathed in light from a trio of large double hung windows.  A generous landing/sitting area leads to two bedrooms and a full bath.

More about "Farmhouse 23" Plan

Barn Style Small House Floor Plans

Designed in collaboration with Irace Architecture, the lovely barn home pictured below was constructed in 2005.  "Barn House 1" features a gambrel roof, echoing the heritage of the Catskills' early Dutch settlers.  Punctuating the roof line, rhythmic rows of shed dormers overlook lean-tos extending from either side.

Though its 2,190 square feet push the boundaries of what we generally consider "small," we elected to include this particular example due to the quality of the image and the fact that Catskill Farms has -- and continues -- to create similar designs with less square footage.  The firm offers full design services and can build a barn home to your specifications.
"Barn House 1" from Catskill Farms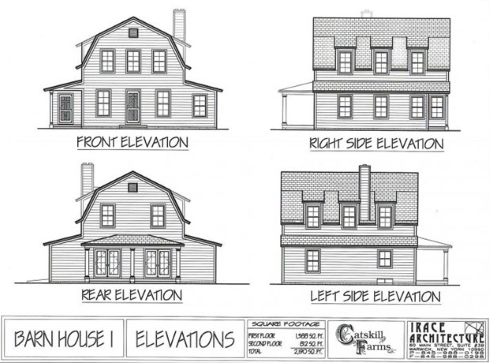 The first floor features a spacious living room oriented around a robust corner fireplace.  Just beyond are adjacent dining and sitting rooms -- each with paired French doors leading to a covered rear porch.  The open kitchen includes a center island.  A powder room and laundry room are accessed via a corridor off the front entry.

First Floor Plan (above)

The second floor offers an efficient arrangement of three bedrooms, including a master suite with 3/4 bath.  An additional full bathroom completes this level.

Second Floor Plan (above)

More about "Barn House 1" Plan

See More Small Barn House Plans

See More Small House Plans from Catskill Farms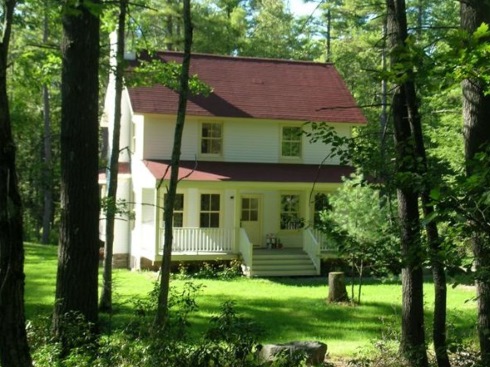 Please check back often or subscribe to our RSS feed, as we frequently add small house floor plans to our site.

YOU MAY ALSO LIKE:

The Single Floor House Plan -
Modern Marvels!

Small House Plan Designs
for Farm & Barn Cottages!


Small Country House Plans -
"Farmiliar" Forms!


Small Cottage House Plans -
Farm Style Features!


Small Farmhouse Plans -
Country Cottage Charm!

Small Farm House Plans -
Opportunities for Growth!


Small Barn House Plans
Soaring Spaces!

Back to Barn Style House Plans
Back to Standout Farmhouse Designs Home Page


Didn't find what you were looking for?
Use this search feature to find it.