Small Farmhouse Designs...
Cottage Delights!
Small farmhouse designs with storybook styling exude timeless charm.  The look is characterized by simple forms with multi-pane windows, covered porches, and steeply pitched roofs pierced by dormers.  Whether a lovingly restored Victorian or newly conceived creation, the little cottages featured here are bound to touch your inner child and take you back to "once upon a time..."

The bluish grey cedar shingles of a Puget Sound farm cottage blend seamlessly into the misty mornings of the Pacific Northwest.  Designed by architect Stephen Bobbitt, it features a gracious wraparound porch . . . perfect for sheltering from the sun and rain alike.  A steeply pitched roof with through-the-cornice gabled dormers and an adjacent tower further connect this modern guest house with an old fashioned agrarian aesthetic.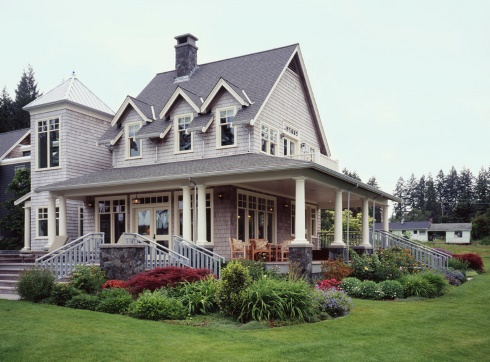 Photo Credit: William Wright Photography

Renovated by owner/designers Michael and Alison Brewer, a classic New England farm style cottage in South Harbor, Maine makes the most of its relatively modest 1,200 square feet through an efficiently arranged layout and by adjoining an existing storage shed to the cottage.  An attached screened porch provides an additional 250 square feet of living area.

Photo Credit: Max Kim-Bee (via Country Living)

The Murphy Springs farmhouse has remained in the same family since it was built in 1841 in the foothills of the Great Smokey Mountains.  Located in Northeast Knoxville, Tennessee, the farm dwelling has seen its fair share of history, much of it lovingly preserved during a recent renovation by descendant Kevin Murphy.  With a shored up foundation, white clapboard siding and a durable metal roof, the high gabled farm house retains its bucolic charm.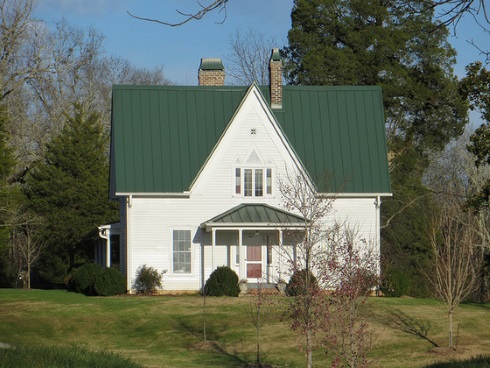 Image via hgtv.com

The old and new merge gracefully in a beautifully restored Virginia colonial farm house dating to 1815 and 1850.  Architect W. Douglas Gilpin designed a new addition (shown below) for the back of the home featuring a wraparound porch, an indoor and outdoor fireplace, and an upper level master suite.

Image Source: W. Douglas Gilpin Architect

Situated in Chester County, Pennsylvania, a Victorian cottage oozes fairy tale charm.  The small farmhouse design -- reminiscent of a doll house -- features beautifully restored porches with cypress railings, shuttered windows, and a richly colored paint scheme.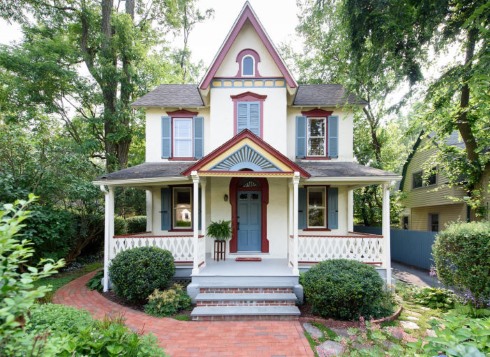 Image Source: Keller Williams Realty (via Country Living)

Erected in 1856, the carriage house/stable pictured below now serves as a vacation rental in Newport, Rhode Island.  Architect Gale Goff renovated and readapted the functionally obsolete structure to create a two bedroom dwelling with 1,040 square feet of living area and a one car garage.  Clad with board and batten siding, the 1-1/2 story cottage features a Gothic style gable,  shed roof dormer, and lean-to garage extension at left.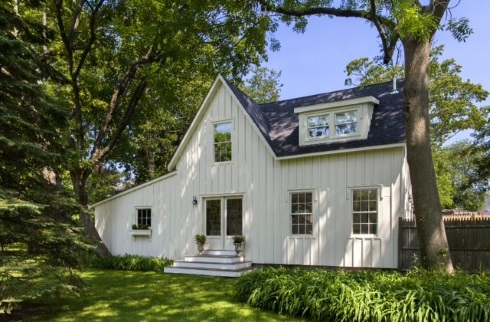 More about this Vacation Cottage Rental

More Small Farmhouse Designs

Built in 2011 as a shot-gun style farmhouse with just 1,000 square feet (center section with porch), an Alabama residence was subsequently expanded to encompass 1,700 square feet of living space.  Designers Mark and Kelly Ash juxtaposed a series of simple forms to create a striking overall composition.  Costs were cut using reclaimed materials wherever possible, including corrugated metal salvaged from an old chicken coop to accent the cantilevered bay (below right) and detached shed facade (below left).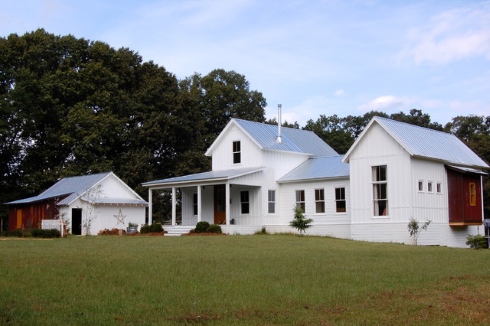 Photo Credit: Corynne Pless

From the Fresh Collaborative Design Co. of Athens, Georgia comes a small gabled farmhouse and connecting barn style garage.  A hip roofed extension across the facade is centered on a recessed entry porch. Paired double hung windows with divided lights flank either side.  The home is clad with board and batten siding and a metal roof.  Traditional farmstead colors of white and red define the living space from the "barn," i.e., garage space.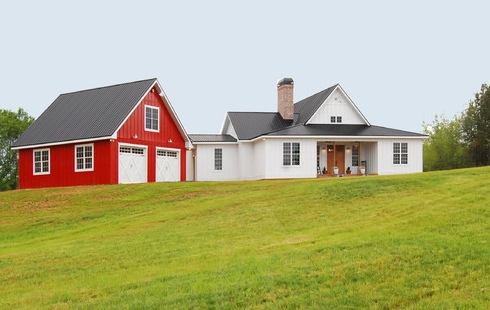 Image Source: The Fresh Collaborative Design Co.

The axiom that "small is beautiful" is borne out in the form of a lovely farm style cottage in Virginia.  Designed by Sam Blount and architect Madison Spencer, the "Genteel Cottage" features a central block with pillared porch flanked by symmetrical wings (below).
The 1,200 square foot interior includes a striking farmhouse kitchen design with green soapstone counters (right).  Upper cabinet doors echo the window detailing over the sink.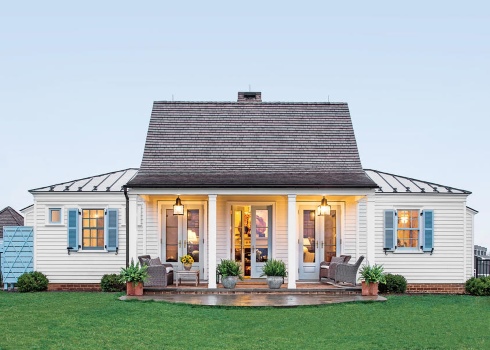 Photo Credits: Laurey W. Glenn (via Southern Living)

Please check back often or subscribe to our RSS feed, as we frequently add small farmhouse designs to our site.

MORE SMALL FARMHOUSE DESIGNS:


Farmhouse Inspired Home Design -
Warm Wood Accents & Soothing Colors!


Tiny Houses for
Farm Style Retreats!


Tiny House Plans
for Farm Cottages!


Small Farmhouse Plans -
Country Cottage Charm!

Back to Standout Farmhouse Designs Home Page


Didn't find what you were looking for?
Use this search feature to find it.