Modern Farm House Floor Plan...
Masterwork in the Midwest!
A relatively new farm house floor plan in Western Wisconsin meets the functional demands of working farmhouses built more than a century ago.  Like its predecessors, the home features a utilitarian open plan that places the kitchen front and center . . . the hub around which all activity flows.
The dwelling, itself, is the centerpiece of a 40 acre hobby farm with a big red barn, chicken coop, apple orchard and vegetable garden.  Designed by Marc Sloot of SALA Architects, "Holly Ridge Farmhouse" combines the best of old and new in a rural weekend retreat for busy urban dwellers!

Perched on a ridge overlooking the Rush River Valley in Ellsworth, Wisconsin, the 1-1/2 story gable farmhouse marries classic country charm with contemporary materials and styling elements.  A full width porch stretches across the front and partly around the left side to join a spacious screen porch for mosquito-free evenings.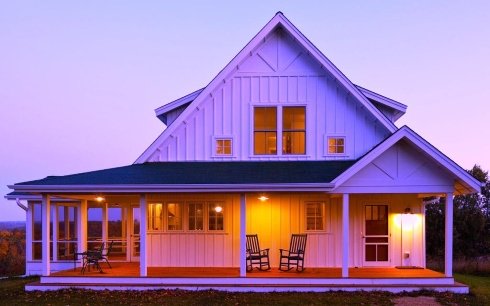 A close-up of the front porch reveals a stained wood floor on which to rock the day away.  Crisp white board and batten style fiber-cement siding clads the exterior walls.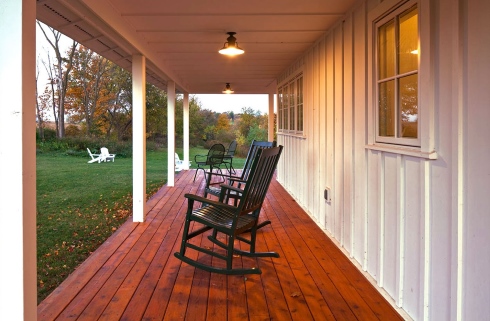 The farm house floor plan features 1,973 square feet of living area on two levels.  On Level 1, a generous front entry doubles as a mudroom . . . a place to park soiled shoes, boots and outerwear after coming in from doing chores. 
In keeping with traditional working farmhouse plans, the all important kitchen is located just off the entry and ready made for canning, baking and cooking fresh produce from the garden.  Bucking tradition, however, while simultaneously adapting to present-day preferences for open floor plans, the kitchen flows seamlessly into the dining area and family room.  A guest room/study and a 3/4 bathroom are tucked away in the back at right.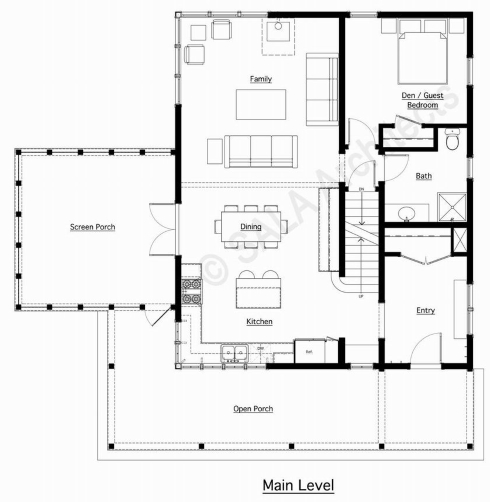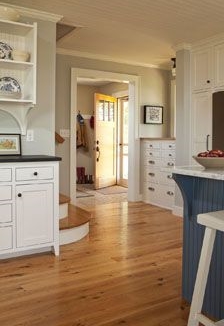 A view from the kitchen toward the front entry/ mudroom (right) reveals a simple painted board with hooks for hanging coats and caps.  Boots and shoes are placed just below. 
The light-filled kitchen (below) features a center island and a bank of windows overlooking the front porch.  Tall French doors open onto the side screen porch.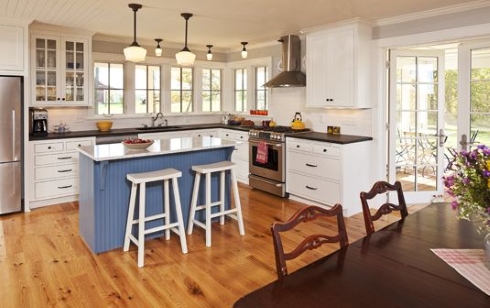 Simple cabinetry and hardware harken back to the turn of the last century . . . as does the beaded board around the center island.  Period lighting fixtures cast a warm glow over polished wood floors.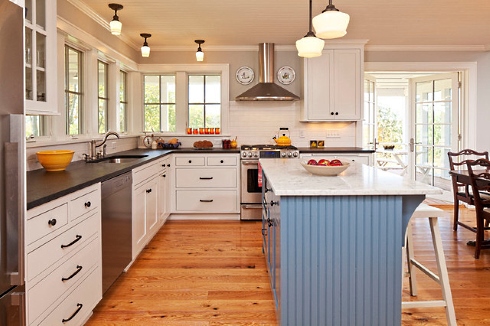 Corner windows in the family room enhance the feeling of spaciousness while offering spectacular valley views.  The broad vistas of the outer world mingle with the warmth and intimacy of a wood stove fire.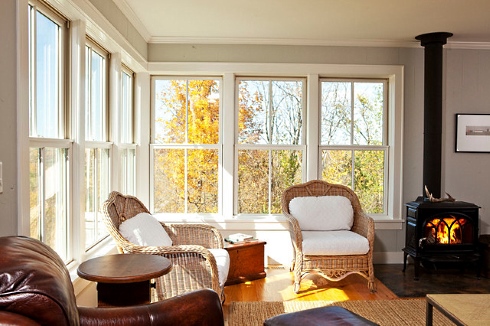 Nestled beneath the gable roof and wide shed dormers on Level 2, one finds a quiet, sunlit loft atop the stairs . . . an ideal spot for relaxed contemplation.  Two bedrooms bookend the upper level floor plan -- one for sunsets and one for sunrise.  Opposite the loft, a large full bath separates the bedrooms.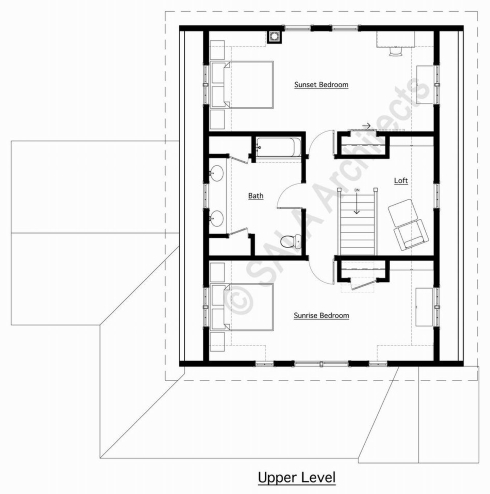 A metal bed and flanking night stands fit neatly into a cozy dormer nook.  Gable end windows -- large and small -- flood the room with natural light (below left).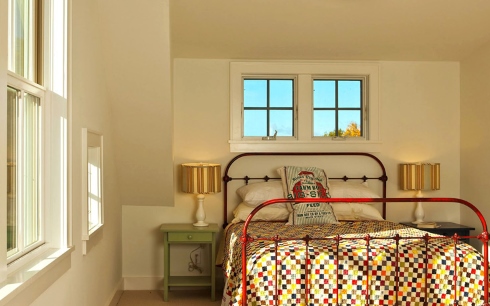 Finished in neutral tones, the upper level bathroom features simply cabinetry and dual vanity sinks.  Recessed panel doors open at closets on either end of the vanity.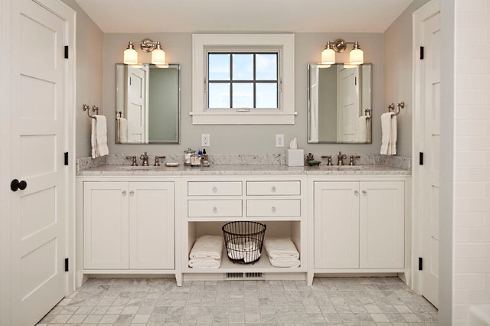 Image Credits (above): Troy Thies Photography

More about "Holly Ridge Farmhouse"

More Country House Floor Plans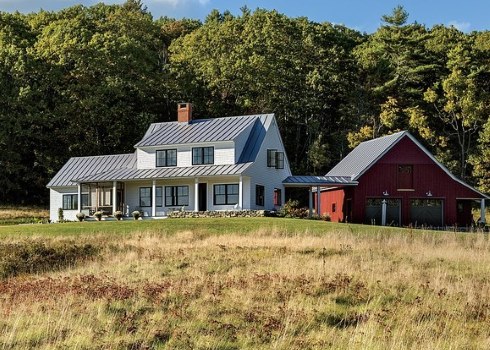 Please check back often or subscribe to our RSS feed, as we frequently add new farm house floor plan ideas to our site.

YOU MAY ALSO LIKE:


New House Floor Plans -
Old House Charm!


The Single Floor House Plan -
Modern Marvels!


Small Farm House Plans -
Opportunities for Growth!


Midsize Farm House Floor Plans
for Modern Lifestyles!


Farmhouse House Plans
for Growing Families!


The Modern Farmhouse -
An Evolving American Icon!

Back to Standout Farmhouse Designs Home Page


Didn't find what you were looking for?
Use this search feature to find it.